Today, Elena and I are starting a new weekly chat to catch each other, and you up on things in the Bookish and book world…
Elena: The Goodreads Choice Awards first round opened this week! It seems like yesterday that we were voting for last year's books, doesn't it? I have to say that I'm always torn when it comes to choosing among so many books I absolutely loved…
Tamie: It does. I was actually kind of shocked when I logged into Goodreads and saw that it was going on. It was nice that I was on vacay and could put a post together about it. There are SO many great books I'd love to vote for. Also, I think peeps sometimes forget that they have a write-in option in case one of their favorites isn't listed.
Elena: Oh yes, that's true. Write-ins are very important. If we want to vote for an author or book that isn't listed, we can write their name in the space provided. Many authors passed the rounds the previous years, thanks to write -ins. If you guys haven't voted yet, make sure to do so on Goodreads. Also, I was so happy this week to see that Tammara Webber is writing Easy from Lucas' POV! You know, Tamie, how much I would have loved a sequel, but having the opportunity to read Lucas's thoughts makes me ecstatic! You can find Tammara's tweet here. I'm swooning already…
Tamie: Holy crap dood! How did I miss this news?!? This is huge to me cuz you know what a huge fan I am of Tammara, and Lucas is one of my all time favorite forever book boyfriends.
Elena: IKR? So awesome! I love books written from male POVs 😉 And this week Bookish Temptations participated in the cover reveal of Sempre: Redemption by JM Darhower! OMG I love the cover! The colors, the symbolism…everything is perfect. I'm itching to have this book in my hands, Tamie! I can't wait to read about Carmine and Haven again…
Tamie: I love it when we get to participate in cover reveals for authors we love, or new to us authors.  So many times I see a cover reveal I would've signed up for if I had known, and it makes me want to cry or go on twitter and tweet…HEY…I would've done it if I'd only known! (Hint to any authors reading this…if you have a cover reveal coming up shoot us an email or a DM and let us know! Same for promo posts)
Elena: I agree with you Tamie. I'm the same!
Tamie: WoW! So many great books came out this week…Mine by Katy Evans…The Edge of Always by J.A. Redmerski…Jagged by Kristen Ashley…Disclosure of The Heart by Mary Whitney. That's another thing I often have a hard time keeping up with.
Elena: So true! So many books, so little time! I loved Disclosure of The Heart (you can find my review here) and I'm almost finished with The Edge of Always by JA Redmerski, and I'm LOVING it! Tamie, how amazing is this book?! I dare say it's even better than the first one.
Tamie: I feel the exact same way. The Edge of Always was everything I was hoping for and more. (My review is here). It's going to be really difficult to limit our Best of 2013 lists in December.
Elena: You're right. It will be so difficult to narrow them down. November is being such a great month as far as new releases are concerned. I was also very happy to see released The Temptation of Lila and Ethan by Jessica Sorensen, another favorite author of mine. Also another one of our favorite Authors, Sylvain Reynard, posted on his site a scene involving Gabriel and Paulina. Have you all read it, guys? It was a very interesting scene to me. I've always wondered how Paulina and Gabriel met…
Tamie: Elena, I love it when authors post stuff that lets us know things we didn't before. in case you missed the scene that SR shared go here to read it. OOOOO…I have something else to share. We're huge fans of Colleen Hoover and she has some fabulous news AND an awesome giveaway going on. Check it out and enter here.
Elena: That is AWESOME news about Colleen Hoover! I was so excited when I read it! I just love her and her works 🙂 She's such a talented Author!
During our blogiversary authors gave us some amazing things for giveaways and we have two pictures to share with you from the winners.
Amelia shared all her swag from Tammara Webber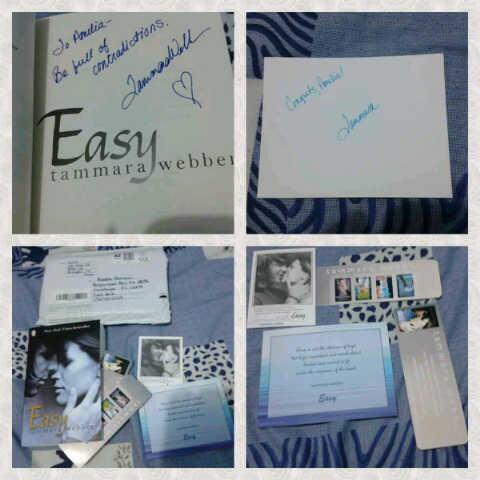 Lena shared the goodies she won from Sylvain Reynard
If anyone else wants to share a picture of their giveaway goodies you can either tweet us a picture  to @BookTemptations or email us at bktemptations@gmail.com
**********************************************************************
If you have something you'd like to share as far as new releases, covers, etc. please leave a comment 🙂
We've got lots of great things coming up this month and next, so stay tuned and join Elena and I for next week's rewind!
Tamie and Elena