He was lost and alone. Then he found her.
And the future seemed more fragile than ever.

As a child, Landon Lucas Maxfield believed his life was perfect and looked forward to a future filled with promise — until tragedy tore his family apart and made him doubt everything he ever believed.

All he wanted was to leave the past behind. When he met Jacqueline Wallace, his desire to be everything she needed came so easy…

As easy as it could be for a man who learned that the soul is breakable and that everything you hoped for could be ripped away in a heartbeat.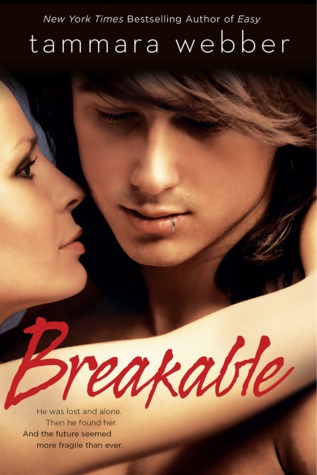 First off I have to say yet again how much I love this cover. Even if I had never read Easy I would be interested in reading this book based on the cover and the synopsis. It's even better looking in person tho!
As to what's between the pages of this book? It's everything I had hoped for and then some! Tammara Webber is such a talented writer that my expectations were unusually high for this one. From the moment I found out that she was writing Breakable,  this book was on my must read, must have list. The day I received it in the mail was the day I began reading it, and it's the kind of book that makes you think about staying awake all night to finish it. Sadly, I had to work the next day so I couldn't do that. I briefly thought about calling in sick so I could stay home with it, but I didn't do that either. Instead I read it during breaks, during lunch, and once I got home I did little else…because it was just THAT good.
While it's true that Breakable is Lucas's POV of Easy, it's also true that it's so much more than that. It's the back story of Lucas when he was still Landon. Tammara weaves the two stories together seamlessly, flawlessly, perfectly. I can't even begin to imagine what a difficult task that was, but it's a thing of beauty.
It's difficult to pinpoint just one favorite thing about this book, but here's one that's on the list for sure. Getting Lucas' POV answered questions I had when I read Easy. I won't spoil things by revealing the answer, but I'll share one of the questions I had. Remember when Lucas and Jacqueline are getting hot and heavy on his couch and he pleads with her to "Say stop, please. Please."? That one always had me stymied. You'll find out exactly why when you read Breakable. WoW! Just WoW! (It's on page 208 if you want to refresh your memory).
It's also fair to warn you that your heart is in danger of breaking as you read Landon's back story. It's hard in a way to reconcile the way he was with the person I knew from Easy, but that only adds so much more to the story, and it makes me love the character even more. To have suffered the trauma of losing his mother the way he did and feeling responsible for it would have been enough to set his course for bad choices. That was compounded by the loss of his Dad. No, he wasn't dead physically, but he withdrew from Lucas and life emotionally. That had pretty dire consequences. Add in the further loss of his home, friends, and a very nice lifestyle when his father moved the two of them back to where he had grown up, and you have the perfect recipe for disaster.
Bad choices is actually too weak of a description for the things that Lucas got involved with. Disastrous would be more apt. I think you'll be as surprised as I was by how low he sunk, and that's being kind. What saved him was a wake up call that could have had consequences of monumental proportions, and the love…make that tough love that was given to him by a favorite character from Easy. Dr. Heller didn't offer him an easy out. That's not what he needed tho. He had to work hard to get to the place he's at when we meet him at college. It was a necessary journey he had to undergo in order to save himself, and it makes for one hell of a read.
There are many new characters we meet along the way, but for me the three that stood out the most were his grandfather, his friend Boyce, and Mrs. Heller. All are important for the story to be told fully. All have an impact. I sometimes don't pay enough attention in a review to secondary characters, but without them the story would be lacking.
I have to echo something that Tammara said when she appeared on Book Talk Nation. Easy is an important book because it deals honestly with a serious problem… sexual assault. But I think Breakable is an important book too because it deals with other issues that can ruin lives as well. I applaud both. I loved both, but Breakable is my favorite of the two.
Normally in my reviews I talk about the heat in a book. Normally I don't save that til the end but I lead with it. I made an exception in this case very specifically because I didn't want to take away from what I felt was more important. Having said that I would be remiss if I didn't say I thought the heat was better in this than in Easy. Maybe that's simply a result of reading it from Lucas' POV. I generally think it's much hotter from the guy's POV personally. It seemed to me that it was more detailed which I appreciated, but have no fear… it's not gratuitous.  Whatever the reasons…it's HOT! It's also a very romantic book. Make no mistake…a book can deal with very serious, heartbreaking subjects and still make your heart pound, give you all the aww's and ah's. This book does that exquisitely.
Breakable is getting my highest recommendation for you to read it as soon as you can one click it on Amazon, or as fast as the mail can deliver it if you choose to buy the print version if you haven't already. It's on my short list of favorites read so far in 2014. It is assured of getting a place on my forever favorites list because it's an amazing story. It isn't just a retelling of another book. It's a story in and of itself. Although it could be read as a stand alone I honestly would encourage you to read Easy first. I think you're missing out if you don't.
Thank you to Tammara for writing this book. Thank you for an amazing story. Thank you for more Lucas who will always have a very special place in my heart.
My rating for Breakable by Tammara Webber:
5++ You absolutely MUST read this book hearts, stars, diamonds or whatever designation you choose.
**I received a copy of this book in exchange for an honest review. Honestly, I couldn't have loved it more! **
One last thing before you go. Elena and I had the pleasure of interviewing Tammara recently and we'll be sharing that with you on Friday…along with a giveaway. Don't miss it!
Tamie Xo