It's a pleasure to have one of our favorite authors joining us today for a little Q and A time as we welcome Tammara Webber back to Bookish Temptations.
Hello Tammara. On behalf of Elena and I we wish to thank you for taking the time out of your busy day to answer a few questions for us and our readers.  
Thank you both so much! 🙂 
When did you decide to write Easy from Lucas's POV and include Landon's story? Was it something you already had in mind to do? 
About a year ago, Lucas began "telling" me his story. Before that, I had absolutely no plans to write this book. I found his backstory compelling and knew I wanted to tell it.
Women of all ages, from all walks of life, from all over the world love Lucas. As the creator of such a beloved character can you tell us the impact that has on you, and did it make writing Breakable easier or more difficult? 
 Creating a character like Lucas and unleashing him on the world has been a little surreal, but more in the way people take a character I feel I know and see clearly and view him through their own eyes. It's sometimes very different than how I view him – which I suppose goes to show why there isn't just one type of guy for every woman. We all need different things – even from the same person.
Now that you've written the story from both POVs, which one was the hardest to write and why?  
Both stories were intense, and both challenged and changed me in their own ways. Jacqueline's story was very straightforward from a writing standpoint, whereas Lucas's story was in some ways a technical nightmare, but I feel I grew as a writer having written it.
What was the biggest challenge you had to face while writing Lucas's POV? 
Getting the different voices of Landon and Lucas exactly right, and lining their stories up correctly. Readers who pay attention to minor details will (I hope) see that I took a lot of care to weave the stories together as seamlessly as possible. Nothing is perfect, of course – but I did my best.
What do you enjoy the most, and the least…from start to finish with your books? 
I love writing. I love storytelling. Revising is no fun – making major changes, having to strip portions of a book and start over, or moving big chunks from one chapter to another. I actually like the process of editing – cutting unnecessary words and sentences, fixing weirdly structured sentences, et cetera. But revising? UGH.
Fast and Furious:
Show or Tell? Show
Fingers or Forks? Forks
Truth or Dare? Truth
Hot or Cold? Hot
One word to describe yourself? Introvert
Thanks again, Tammara for stopping by!
We can't wait for everybody to get their hands on Breakable which was on both of our most anticipated books of 2014 list.  
Thank you!!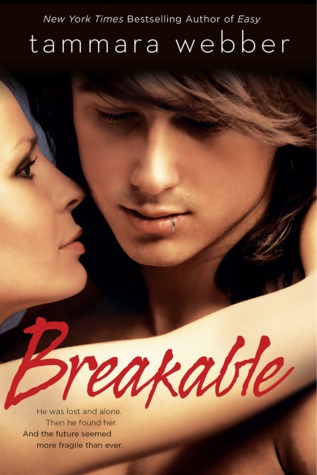 Tammara Webber is author of the New York Times bestselling New Adult novel Easy, the first novel in her Contours of the Heart series, and the Between the Lines series.  She is a hopeful romantic who adores novels with happy endings, because there are enough sad endings in real life.  Before writing full-time, she was an undergraduate academic advisor, economics tutor, planetarium office manager, radiology call center rep, and the palest person to ever work at a tanning salon.  She married her high school sweetheart, and is a mom to three adult kids and four very immature cats.  Connect with her online at tammarawebber.blogspot.com, twitter.com/tammarawebber, and www.facebook.com/TammaraWebberAuthor.
You can enter our Rafflecopter giveaway HERE where you have the chance to win one set of print copies of  both Easy and Breakable.
Have a great day all!
Tamie and Elena