WWW Wednesdays is a weekly event where you share (1) What you're currently reading, (2) What you recently finished reading, and (3) What you think you'll read next.
What I'm currently reading– Come To Me Softly by A.L. Jackson
A second chance at life…
A second chance at love…
Jared Holt never thought he deserved either—until he found both in the arms of Aly Moore. Aly has loved Jared for as long as she can remember, and she's more than ready for the future they're making together. But Jared can't help remembering his own family. And he'll never forgive himself for what happened to them. How can he allow himself the very happiness he once destroyed?
To live a life worthy of Aly, Jared knows he has to stop running and finally put his past to rest. But when he decides to face his demons head on, he encounters more than he bargained for: a dangerous mix of jealousy, lies, and dishonest intentions. When those intentions threaten Aly, Jared loses all control, giving into the rage that earned him his bad boy reputation years before. And he'll fight to protect her no matter what.
What I recently finished reading– Written in My Own Heart's Blood by Diana Gabaldon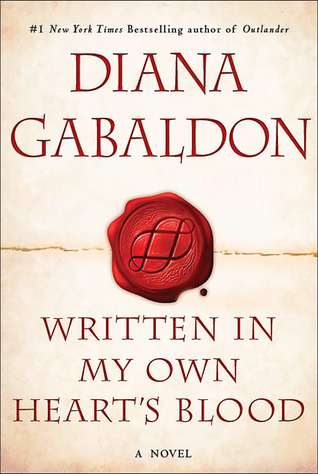 WRITTEN IN MY OWN HEART'S BLOOD is the eighth novel in the world-famous OUTLANDER series. In June of 1778, the world turns upside-down. The British army withdraws from Philadelphia, George Washington prepares to move from Valley Forge in pursuit, and Jamie Fraser comes back from the dead to discover that his best friend has married Jamie's wife. The ninth Earl of Ellesmere discovers to his horror that he is in fact the illegitimate son of the newly-resurrected Jamie Fraser (a rebel _and_ a Scottish criminal!) and Jamie's nephew Ian Murray discovers that his new-found cousin has an eye for Ian's Quaker betrothed.
Meanwhile, Claire Fraser deals with an asthmatic duke, Benedict Arnold, and the fear that one of her husbands may have murdered the other. And in the 20th century, Jamie and Claire's daughter Brianna is thinking that things are probably easier in the 18th century: her son has been kidnapped, her husband has disappeared into the past, and she's facing a vicious criminal with nothing but a stapler in her hand. Fortunately, her daughter has a miniature cricket bat and her mother's pragmatism.
The best of historical fiction with a Moebius twist, WRITTEN IN MY OWN HEART'S BLOOD weaves the fibers of a family's life through the tapestry of historical drama.
What I think I'll read next– Perfect Kind of Trouble by Chelsea Fine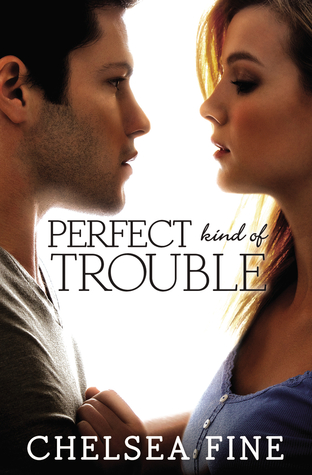 Sometimes when perfect falls apart, a little trouble fixes everything . . . 
Twenty-one-year-old Kayla Turner has lost everything. After spending most of her life taking care of her ailing mother, she just wants to spot a glimmer of light at the end of the tunnel. So when her late father-a man she barely knew-leaves her an inheritance, she finally breathes a sigh of relief . . . until she learns the inheritance comes with strings. Strings in the form of handsome playboy Daren Ackwood, her father's protégé. To see any of her inheritance, she's forced to team up with him. From his expensive car to those sexy dimples, Kayla's seen his type before. But Daren isn't who he seems to be . . .
Struggling to make amends for his family's mistakes, Daren has a life more Oliver Twist than Richie Rich these days. He's beyond grateful that James Turner included him in his will, but working with Turner's princess of a daughter to fulfill his cryptic last wish is making Daren wonder if being broke is really so bad. Still, she's just as beautiful as she is stubborn, and the more time he spends with Kayla, the less it feels right being without her. Soon Daren and Kayla begin to wonder if maybe the best gift Kayla's dad could have left them . . . was each other.
What are your WWW's?
Tamie Xo