Happy Saturday peeps!
It was just about two years ago when Elena and I began a feature we called Book Club. We chose a book that we both floved and then we discussed it through fairly detailed questions and invited readers to join in. The discussions usually ran between 4-6 weeks, and many of you wowed us with your participation each week. For many reasons we have decided on a completely new format which we look forward to and hope you will as well.
1st- We're going to change the name of this feature to Book Chat with Tamie and Elena. (Please note…we are only changing the name of the feature…NOT the blog name.)
2nd-  We've decided on a more personal and informal exchange between Elena and I. I won't detail that more completely because I want it to be a surprise, and I think some things are better seen than explained.
3rd- Each Book Chat will be shortened to a two week time frame (although if we ever think it warrants a third week we will certainly do that).
4th- We absolutely love, welcome, and encourage both readers and authors to be involved. That doesn't change with this new format, and perhaps many more will be encouraged to do so with the shorter time frame involved.
So, the book we've chosen for our newish venture is…
Breakable by Tammara Webber. She's a huge favorite here at Bookish Temptations and Elena and I can't wait to discuss this book.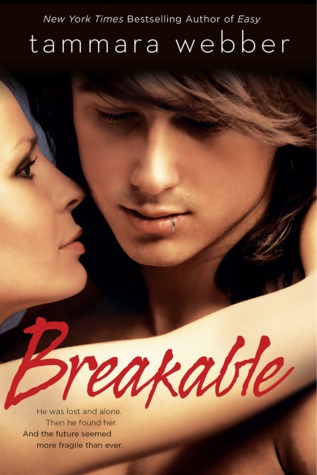 He was lost and alone. Then he found her.
And the future seemed more fragile than ever.
As a child, Landon Lucas Maxfield believed his life was perfect and looked forward to a future filled with promise — until tragedy tore his family apart and made him doubt everything he ever believed.
All he wanted was to leave the past behind. When he met Jacqueline Wallace, his desire to be everything she needed came so easy…
As easy as it could be for a man who learned that the soul is breakable and that everything you hoped for could be ripped away in a heartbeat.
~~~~~~~~~~~~~~~~~~~~~~~~~~~~~~~~~~~~~~~~~~~~
Our first chat will take place on Sunday, July 6th and we hope to see lots of you there 🙂
Tamie and Elena
If you'd like to help us spread the word we'd appreciate it if you'd click on one of the share buttons. Thanks!