Today Elena and I are sharing our thoughts with each other and with you on Breakable by Tammara Webber. It's a favorite for both of us, and we'll tell you why…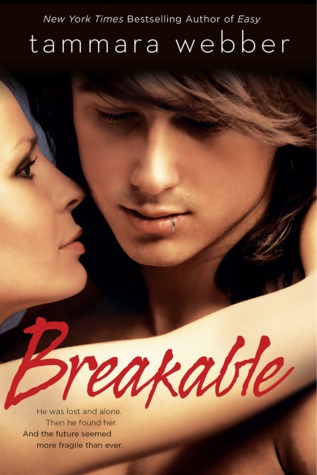 Elena: First off, Tamie, I'd like to start by saying that I absolutely loved this book! I loved it even more than Easy. I mean Easy was amazing, but Breakable is simply outstanding!
Tamie: I couldn't agree more. I was really curious whether or not I would like it as much as Easy, but for me it was even better for so many reasons which I'm sure we'll get to at some point.
Elena: Exactly. Usually the original/first book (I don't know how to call it LOL) is the best one for me, but with Breakable it was different. Like I said in my review, I loved Easy, but I adored Breakable.
Tamie: I was really curious how Tammara was going to put this together when I found out that she was writing the book. I already loved that we would get Lucas's POV, but wondered how the backstory would be told. I thought it was perfect and easy to read the way she did it by separating the past and present with Landon as the past and Lucas for the present. I also loved that it was intermingled. I think it gave the story that much more depth and emotional appeal. What did you think about how it was done?
Elena: I agree with you, Tamie. One of the things I loved the most about Breakable is exactly the fact that we get to read from Landon's POV. Reading about Lucas's teenage years was heartbreaking on one hand, but on the other I got to appreciate Lucas even more, if that's even possible. We get to see how he chose to become the amazing guy he is.
Tamie: I truly love getting the male POV, but this time it's even better because it fills in so many details. We get to know why he reacted the way he did, what he was thinking, and feeling. As for his teenage years…WOW! I was truly surprised at finding out so many things. Even knowing he'd had tough times in no way prepared me for the absolute truth. What were your reactions to reading Landon's story?
Elena: I had so many reactions while reading Landon's story. I'd never ever would have imagined the things he went through. I knew he had suffered, I knew his mother's death had completely shuttered him, but so much more happened to him afterwards, and I'm glad Tammara gave us insight into his teenage years. Like I said above, I was able to understand him more.
Tamie:  We've both admitted we love it when an author writes from the male POV. For me it's a combination of having the chance to get inside the guy's head, plus it always seems to me that it's less censored. Guys are generally more direct and I like that.
Elena: Exactly. Male POVs are the best ones for me. Probably because we get inside a guy's head, and we can see how he thinks, how his brain works. It's common knowledge that women and men have (most of the times) completely different ways of thinking, of reacting to a same situation, of expressing themselves. LOL So getting a male perspective is always a plus I think, especially for us women.
Tamie: Since we really get the details on his father and grandfather I have to say that I was actually really pissed off at his Dad. I get that he was devastated and full of guilt, but basically he abandoned Landon. Thank heavens that his grandfather provided what he could.
Elena: Yes, I have to say the coping mechanism of Landon's Dad was really bad. He left Landon completely to himself, and that's not how a parent is supposed to behave. Yes, the pain of Landon's dad was beyond anything we can imagine, I get that, but let's not forget about Landon's pain. He lost his mother for goodness' sake. Not only that, but he also felt guilty about it. I can't believe he and his father never talked about this. Talking is essential. There are so many situations that get worse and worse when two people don't talk. And that's exactly what happened between them. And well, Landon's grandfather was truly a hero, like was Charles.
Speaking of Charles, I have to say he's one of my absolute favorite characters of the book. The way he cared for Landon/Lucas melted my heart. He was the one that showed Lucas his worth and made him realize how precious his life and decisions could be.
What do you think of this character, Tamie?
Tamie: Charles is also a favorite for me. He was truly Landon's salvation in so many ways. Yes, Landon was the one who had the hard work to do, but without Charles he wouldn't have even gotten that chance. He loved him as a father loves a son and that really touched my heart. I also loved that we get to know more about the other Heller's.
Elena: What's your favorite scene in this first half of the book? One of mine is when Lucas sketches Jacqueline for the first time. This is such a significant scene in the story for me. Jacqueline kind of lets go for the first time after her break up with Kennedy, and this shows how much she's trusting Lucas.
Tamie: OMG…that's a tough one cuz there are so many great scenes, but I'll have to agree that the sketching scene is a favorite for me as well. I also have to say how much I loved whenever Lucas was thinking about Jacqueline…how he was feeling and reacting. Some of the thoughts were SO hot I had to reread them…several times 😉
Elena: Oh yes…swoon! Lucas's thoughts were very, very hot. 😉 And now let's talk about music, which is another favorite topic for both of us, right Tamie? 😉 I have to say that as soon as Tammara Webber uploaded Breakable's playlist on her website, I immediately went and listened to it. It's amazing!!! I love it when authors give us their books' playlists! It also contains one of the songs I've been listening to for months now, before I knew it ended up on the playlist. I'm talking about Demons by Imagine Dragons. I love this song. Also Dare You To Move by Switchfoot is another favorite. I discovered it 2 years ago and it's been on my ipod since then. So happy they're both on this playlist!
Another song that makes me think of Breakable is Call Me What You Like by Keane. What about you, Tamie?
Tamie: I too love playlists from authors, and Demons is not only a favorite song for me personally but it fits so perfectly. I didn't know all of the other ones but having read the story they each have significance and meaning. I always enjoy adding new songs to my own playlist favorites.
Buy Links: Amazon ~ Barnes and Noble ~ Kobo ~ iTunes 
Author Links: Twitter ~ Facebook ~ Website
We also have a giveaway that you can enter for one print copy set of Easy and Breakable. Click HERE to enter, and good luck to all!
Next week we'll chat about the second half of the book.
Tamie and Elena