Stop me if you've heard this one before: girl meets player, they fall in love, player changes his ways.
It's a good story. But it's not our story. Ours is a lot more colorful.
When I met Dee I knew right away that she was special. When she met me, she thought I was anything but special—I was exactly like every other guy who'd screwed her over and let her down. It took some time to convince her otherwise, but turns out I can make a convincing argument when sex is at stake.
You might know where this story's headed. But the best part isn't where we ended up.
It's how we got there.
There are lots of reasons why I've been anticipating Tamed by Emma Chase. I know she can write funny with mad skillz. I know she can write scorching heat that has me needing a cold shower to calm me down. I know she can tell a story in such a way that I don't want it to end, and I don't want to do anything other than just read it from start to finish. BUT, there were two questions that I came into this book with that I didn't know the answer to.
Even tho we meet Matthew Fisher in Tangled, we don't really get to know him very well. We know he's Drew's best friend, and he seems like a nice guy, but my first question was this…could Emma write another male character that I would fall in love with like I did Drew? Well…the answer is a resounding HELL YEAH she could! I loved him almost as fast as he was able to get Delores in bed for the first time, and that was pretty damn quick. He's  not only hysterically funny, smart, successful, gorgeous, and incredibly talented in the sack…he's also a really nice, caring, thoughtful guy. One of the things I really liked about Matthew…besides all the stuff I just mentioned was that he's not the type of guy who rushes to judgement. He thinks things through, and in this story that was a huge plus. When you read Tamed you'll understand exactly what I'm talking about.
"Delores is a gorgeous name, for a gorgeous girl. Plus, it rhymes with clitoris…and I really know my way around them. Big fan."

"She's wild and beautiful – like an undomesticated thoroughbred that runs best without a saddle. "
The second question I had centered around the character of Delores AKA Dee Dee Warren. You see…I didn't really like her in Tangled, and I mean I did NOT like her at all. She just seemed so mean to Drew, and I never really got her motivation. Yes, she was protective of Kate, but for me it was just too much. I wondered if Emma could redeem her for me, because if not then how on earth could I love this book since it's her story as much as it is Matthew's? The fantastic news is that Emma did just that. I was honestly shocked by how much I ended up liking her, but I did. I found out there's a lot to like about her as a person, and that made all the difference in the world. She has issues from past relationships that I now understand and can relate to. She's feisty and independent but there's a softer, gentler side to her that I was so appreciative of.
Emma weaves her magic way with words again and she gave me a story that I adored from beginning to end with truly wonderful characters that belong together even if I know that long before both of them realize it. Tamed has everything I love in a romantic comedy which is why it gets my highest recommendation for you to read it. Emma is a favorite and go-to author for me. She makes me laugh, and she writes the romantic and the heat equally well. She writes characters who tug at my heart, who take me on their journey, and are unforgettable. Male POV is my favorite and Emma is STELLAR at writing it.
Bonus points for every scene with Mackenzie. Priceless!
My rating for Tamed by Emma Chase:
5+ you've done it again Emma and I love you for it hearts!
**I received a copy of this book in exchange for an honest review, and honestly I couldn't have asked for more.**
Tamie Xo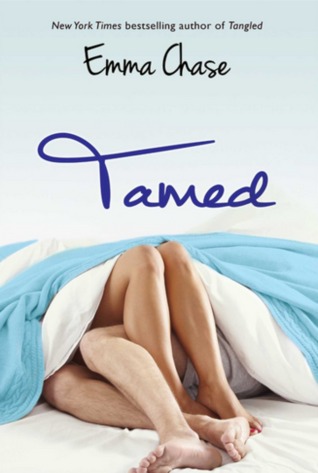 Buy Links: 
Amazon ~ Barnes and Noble ~ Kobo ~ iTunes 
Author links: