The original meme from Midnight Book Girl asks what book has been in your bed this morning?  But, what I want to know is…"What book boyfriend is in your bed this morning?"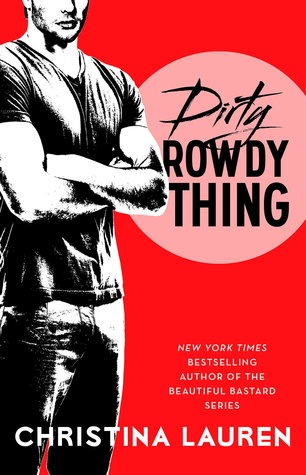 This Sunday I'm finally in bed with Finn Roberts from Dirty Rowdy Thing by Christina Lauren. I say finally because I've had a copy of the book for quite some time, but I was saving it. I've had so much going on at work the past few months, and I really wanted to have a little reward for myself when my fall vacay arrived. I'd gaze longingly at the cover…sometimes I'd even start to open the book to the first page…but then I'd stop by reminding myself that I wanted to be able to just savor and fully enjoy the experience. Yesterday that time arrived, and so far…I'm in love.
I first met Finn albeit briefly in Sweet Filthy Boy, but now I'm getting the chance to really get to know him. YOWZA!!! He's got hazel eyes with killer lashes. He's "all broad chest and narrow waist, thick forearms, muscled legs". And, because he works outside?!? MmHmm…he's nicely tanned too. Swoonerific! He's also a dirty talker 😉
Despite their rowdy hookups, Harlow and Finn don't even like each other…which would explain why their marriage lasted only twelve hours. He needs to be in charge and takes whatever he wants. She lives by theWant-something-done? Do-it-yourself mantra. Maybe she's too similar to the rugged fisherman—or just what he needs.
Who are you in bed with this Sunday morning?!?
Tamie Xo