Beck Anderson is helping us celebrate with an exclusive excerpt from The Jeweler which will be releasing on October 28th.
Enjoy!
It was a day of millers. Millers: ridiculous people who would wander into the shop like lost cows—cows in sneakers and puffy parkas—slurping coffee, marking up the display cases with grimy fingers, and buying nothing.
Fender stood behind a case near a hoodrat-wannabe white kid, all flat-brimmed hat and unlaced Adidas and DGK hoodie. Fender watched him so he wouldn't steal anything. The punk probably lived with his mommy and daddy on one of the boulevards in town, probably drove a nice sensible Subaru and walked the Labradoodle and did his calculus homework without being told—when he wasn't pretending to be hard.
Fender thought what it would be like to reach over the counter and punch him, but then his attention was diverted by an impossibly tiny girl with bright blue hair standing in front of him.
"Excuse me?" she peeped. She was quite possibly a baby bird in disguise.
"Huh?" Fender realized she needed his attention.
The boy standing next to her stepped up. "She said, 'Excuse me.' We need your help, if you don't mind."
Of course I mind. "Not at all. What can I help you kids with?" He gave the boy a good look. The couple hung on to each other's hands, the boy an anemic, blond, string bean in all-black: skinny jeans and a button-up shirt, plus a black trench coat for extra emo-Goth-manga-anime-I'm-so-different-I'm-exactly-the-same effect.
Good Jesus. You are twelve.  
"We're buying an engagement ring." The white noodle in the black get-up puffed out his chest as he declared this.
"Uh-huh," chirped the bird girl in agreement.
Fender closed his eyes, breathed in deeply, exhaled slowly.
Then he opened his eyes.
"No, you aren't."
The pair turned their heads, looked at each other, and turned to look back at him. Bird girl tilted her head like a confused pigeon. "Huh?"
Fender shook his head. "No, you aren't buying a ring. I could offer you a promise necklace, or something horrifying like that, but instead, do this for me: Use your money to backpack across Europe together this summer. Take lots of pretentious pictures, get in a fight on the Paris Metro, realize you hate the way he chews his food in Milan, break up in front of the taxi stand at JFK, and spend a terrible connecting flight home to Boise wishing you'd never met each other."
Fender took a breath, but held up a hand, preventing either from inserting themselves into his tirade.
"Then, and only then, if you still think that you'll just die without each other, come back and buy a ring from me. For now, good day."
Boy noodle looked shocked. "What? That's it?"
"Adieu to you, children. Have fun storming the castle!"
The impossibly young couple shrugged and walked out of the shop. 
Beck is giving away an e-book copy of The Jeweler. Click HERE to enter.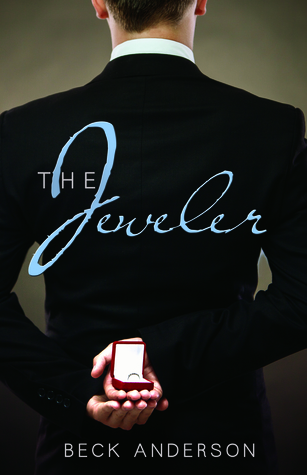 Author Links: 
Here are my links:
Twitter: BeckAndersonID
Thank you Beck for helping us celebrate!!!