This week we've been bringing you all kinds of different posts, and I was really excited to see this cool idea from Morgan and Jennifer Locklear. I'll let Jennifer explain it :))
Happy Blogiversary to Bookish Temptations!  Many thanks to everyone at BT for your help with our first book launch this past summer, and special thanks to all of you who read the story.
Fans of our debut novel, Exposure, may wonder what happened to some of the characters once the Sling Shot movie promotion had died down. Here's a letter from movie director, Nathan McPherson, to one of his favorite actors, Michelle Cooper, catching her (and us) up on some recent developments. 
Enjoy!
Morgan & Jennifer Locklear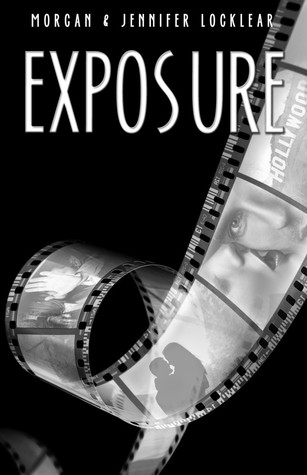 Dear Michelle,
I can't believe it!  I'm in Colombia, filming a remake of Romancing the Stone!  My tent is the size of a small army barracks, but there is limited electricity and zero wifi.
The sky looks so different here.  That is when you can find a clearing in the thicket of trees that seems to smother this whole country.
To follow in the footsteps of a director like Robert Zemeckis has always been a dream of mine, but don't expect me to put any cartoons in my next movie.
Speaking of my next movie, (nice segue way right)?  I've got a part for you that we could shoot in six days.  She's a high minded CEO of a global corporation in league with aliens in the year 3030.
Her name is Britney Brice and she's a menacing bitch right up until her gloriously gory death scene.  You said you wanted something snotty to do where you could dye your hair white blonde and cut it like Charlize Theron. Well, here it is.
I hope you don't mind me saying this, but I actually envisioned you playing her like a female version of Kyle Petersen.  I understand if playing a role so much like your ex wouldn't interest you, but it's that kind of glib smugness I'm looking for. And frankly, I like you when you play bad-ass characters.
I'll email your agent with the details unless I don't have her address anymore…in which case I'll send it to Shaunna to forward.
Speaking of Shaunna, (I'm a natural at this), I hear she had her baby, but I don't know anything other than that.  Was it a boy?  Did they name him Nathan Jr.?  David lost a bet to me and either has to name his first boy after me, or name him Han Ackbar Skywalker Quinn.  (He may not remember this as he was halfway inside a bottle of Scotch that tasted like a church fire).
Filming is going well here.  Channing is a quick study and a laugh riot.  He helps me keep things light on the set since we have to deal with humidity that makes you feel like you've been running through the sprinkler and bugs that push you out of their way.
We shot the bus accident and the characters' introduction which only put us a day behind schedule.
Danny DeVito will be here later in the week to reprise his original role, and I hear he's really excited to do it.  He was actually responsible for getting me in touch with a crocodile wrangler which I desperately needed.
Before I forget, please give my best to Sly and tell him that his fishing tips worked like a charm.  I haven't had a chance to golf yet, but I also still remember his advice for not digging a trench a few inches behind my balls.
Speaking of a trench behind my balls, (just kidding).
Alix says "Hello."  She has fallen in love with woven sandals and that's what's in the box.  She wanted to send some for Sly as well, but I won't put him through that.  Yours are nice though and according to Alix, quite comfortable.  As you know, I will be buried with my Converse collection.
Speaking of my collections, do you remember that Steampunk car on the cover of Information Society's album, Hack?  Well, I tracked it down (In Kentucky of all places) and bought it for less money than it cost me to ship it to California.  It's the most obscure vehicle in my collection, but probably the most personal and valuable to me.  If you don't know what I'm talking about, just tell David and see if he start's singing "Lay All Your Love On Me."
Please don't feel obligated to write me back and since I don't have an address to include, I'm sure you know it would only be a waste of time.  I just have some free time since I have to choose between watching dailies and cooking mac and cheese.
I'll get in touch when I hit the states again and have taken a week long nap.  Until then, keep an eye out for that script and try to clear a week in early April to spend being vicious in Vancouver.
With the usual tip of my hat,
Nathan 
Morgan and Jennifer have offered an e-book copy of Exposure our giveaway.
Click HERE to enter.
Thank you MOG and Jenn for sharing in our blogiversary and for the giveaway!
Tamie Xo