Stacking The Shelves is all about sharing the books you are adding to your shelves, may it be physical or virtual. This means you can include books you buy in physical store or online, books you borrow from friends or the library, review books, gifts and of course ebooks!
I received three print books this week…my favorite thing to get 🙂
From Penguin:
Captivated by You by Sylvia Day
Release Date: November 18th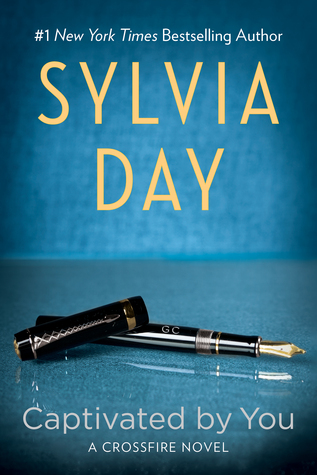 Gideon calls me his angel, but he's the miracle in my life. My gorgeous, wounded warrior, so determined to slay my demons while refusing to face his own.
The vows we'd exchanged should have bound us tighter than blood and flesh. Instead they opened old wounds, exposed pain and insecurities, and lured bitter enemies out of the shadows. I felt him slipping from my grasp, my greatest fears becoming my reality, my love tested in ways I wasn't sure I was strong enough to bear.
At the brightest time in our lives, the darkness of his past encroached and threatened everything we'd worked so hard for. We faced a terrible choice: the familiar safety of the lives we'd had before each other or the fight for a future that suddenly seemed an impossible and hopeless dream.
Quarterback Draw by Jaci Burton
Release date: February 3rd
Grant Cassidy knows how to be a football star—flash that dazzling smile, throw the winning pass, get the girl. But while the hot quarterback loves the game and the lifestyle, no woman has come close to catching his heart. Then he matches wits with a smart, gorgeous model, and Grant finds himself wanting more than a fling.
Supermodel Katrina Koslova might live in a world of glitz and camera flashes, but she works hard to provide for the family that relies on her. She doesn't have time for fun—much less a boyfriend—but Grant seems determined to be the exception to Katrina's rule.
Their explosive chemistry is undeniable, but Katrina's afraid to let go and rely on anyone but herself. Grant intends to ease her fears and prove he's a man of style and substance.
From Pocket Books:
Falling For Jillian by Kristen Proby
Release date: January 27th
From New York Times bestselling author Kristen Proby comes the third romance in the Love Under the Big Sky series, featuring a veteran struggling with PTSD and the one woman who can help him recover—and learn to love again.
Jillian thought she was a city girl through and through; the fast cars, high fashion, and glamour—she loves it all. But when her ex tells her he's having a baby with his new wife (after Jillian struggled for years to get pregnant), she hightails it back to Montana to cry on the shoulder of her best friend, Cara.
But in truth, Jillian would rather be comforted by someone else…specifically Zach, Cara's brother-in-law. Zach is a veteran of the Iraq War who came back to the family ranch to raise his preteen son after the boy's mother took off. He's struggling to re-establish a relationship with his son, and warding off the demons of PTSD, which still haunt him. The last thing he needs is bold, brassy Jillian…but why can't he keep his hands off her?
What did you stack your shelves with this week?
Tamie Xo