Stacking The Shelves is all about sharing the books you are adding to your shelves, may it be physical or virtual. This means you can include books you buy in physical store or online, books you borrow from friends or the library, review books, gifts and of course ebooks!
More print goodies this week 🙂
From Gallery:
Dangerous Alliance by Kyra Davis
Release date: December 30th 2014
From Kyra Davis, New York Times bestselling author of Just One Night, comes Book Two in the Pure Sin series that Sinfully Sexy is calling "angsty, intriguing, and off the charts sexy."
The beautiful, angry Bell has revenge in her heart and Lander Gable in her sights. She's seduced her way into his arms with the intent to destroy his wealthy family. But now that she's there, lust and passion have begun squeezing out that desire for vengeance. It's a dangerous game Bell is playing, and sex, mystery, and lies are the most intriguing game pieces of all.
After We Collided by Anna Todd
2nd edition release date: November 25th 2014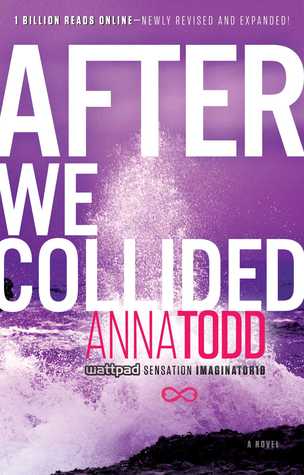 Book Two of the After series—now newly revised and expanded, Anna Todd's After fanfiction racked up 1 billion reads online and captivated readers across the globe. Experience the Internet's most talked-about book for yourself!
Tessa has everything to lose. Hardin has nothing to lose…except her. AFTER WE COLLIDED…Life will never be the same. #HESSA
After a tumultuous beginning to their relationship, Tessa and Hardin were on the path to making things work. Tessa knew Hardin could be cruel, but when a bombshell revelation is dropped about the origins of their relationship—and Hardin's mysterious past—Tessa is beside herself.
Hardin will always be…Hardin. But is he really the deep, thoughtful guy Tessa fell madly in love with despite his angry exterior—or has he been a stranger all along? She wishes she could walk away. It's just not that easy. Not with the memory of passionate nights spent in his arms. His electric touch. His hungry kisses.
Still, Tessa's not sure she can endure one more broken promise. She put so much on hold for Hardin—school, friends, her mom, a relationship with a guy who really loved her, and now possibly even a promising new career. She needs to move forward with her life.
Hardin knows he made a mistake, possibly the biggest one of his life. He's not going down without a fight. But can he change? Will he change…for love?
From Forever (Grand Central Publishing):
Kaleidoscope by Kristen Ashley
Print copy release: December 16th 2014
When old friends become new lovers…anything can happen.
Sexy, gifted, and loyal, PI Jacob Decker is a tall, cool drink of perfection who had Emmanuelle Holmes at "hello." His relationship with Emme's best friend kept them apart for years, but things have changed. Now that a case has brought him to Gnaw Bone, Colorado, the road is wide open for Emme and Deck to explore something hotter and deeper than Emme dreamed possible. So why is she sabotaging the best thing that's ever happened to her?
It isn't easy to catch Deck off guard, but Emme does just that when she walks back into his life after nine long years. The curvy brunette had her charms back in the day, but now she's a bona fide knockout . . . and she wants to rekindle their friendship. Deck, however, wants more. Emme's always been the one; she excites Deck's body and mind like no other woman can. But a dark chapter from Emme's past overshadows their future together. Now only Deck can help her turn the page-if she'll let him.
What did you stack your shelves with this week?
Tamie Xo