Stacking The Shelves is all about sharing the books you are adding to your shelves, may it be physical or virtual. This means you can include books you buy in physical store or online, books you borrow from friends or the library, review books, gifts and of course ebooks!
Here are the print books I received this past week…
From Penguin:
Unraveled by Lorelei James
Release date: March 3rd, 2015
Shiori Hirano and Knox Lofgren are left to run the martial arts program at Black Arts while Ronin Black travels. On the surface, the two highest ranked belts appear to cooperate—but in private, they butt heads constantly, despite the undeniable attraction between them. Soon their power exchanges start to make for a sweltering dynamic in the bedroom…
At first Knox is shocked to be living out his submissive desires, but Shiori sets out to prove that embracing his true sexual nature doesn't make him a weak man. But even while their sexual relationship grants him a power and fulfillment he finds surprising, there's no training regimen for the fight that comes with loving a strong woman.
(This one was on my most anticipated of 2015 list so I'm thrilled that I have it, and can read it soon!)
His to Take by Shayla Black
Release date: February 3rd, 2015
Racing against time, NSA Agent Joaquin Muñoz is searching for a little girl who vanished twenty years ago with a dangerous secret. Since Bailey Benson fits the profile, Joaquin abducts the beauty and whisks her to the safety of Club Dominion—before anyone can silence her for good.
At first, Bailey is terrified, but when her captor demands information about her past, she's stunned. Are her horrific visions actually distant memories that imperil all she holds dear? Confined with Joaquin in a place that echoes with moans and breathes passion, he proves himself a fierce protector, as well as a sensual Master who's slowly crawling deeper in her head…and heart. But giving in to him might be the most delicious danger of all.
Because Bailey soon learns that her past isn't the only mystery. Joaquin has a secret of his own—a burning vengeance in his soul. The exposed truth leaves her vulnerable and wondering how much about the man she loves is a lie, how much more is at risk than her heart. And if she can trust him to protect her long enough to learn the truth.
From Gallery:
Last Call by Alice Clayton
Release date: January 6th, 2015
Simon and Caroline are back for another round of baking, banging, and big life changes. Settling in, but never settling down, Caroline has finally struck a balance between the professional and the personal. As one of the top interior designers in San Francisco, she travels all over Northern California between nook time with Simon.
Perpetual globetrotter Simon has cut his frequent flyer miles in half over the last year, preferring to balance his professional and personal life, as well.
The next step in their lives seems preordained—toasts, veils, and the aisle of rose petals. But when an accident on a photo shoot in Southeast Asia brings Caroline the most terrifying phone call she could ever imagine, she has to ask whether "till death do us part" is a more realistic prospect than faces most couples.
It's been a grand adventure, and Caroline and Simon wouldn't go out without the best surprise ending ever. One part sexy, one part laughter, a dash of exotic locales, and one pink nightie, mixed with passion, and you've got Last Call. Served with a side of Clive.
Before I Go by Colleen Oakley
Release date: January 6th, 2015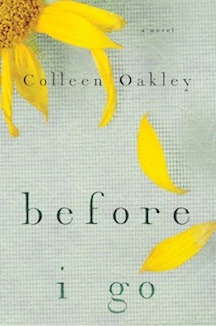 Twenty-seven-year-old Daisy already beat breast cancer three years ago. How can this be happening to her again?
On the eve of what was supposed to be a triumphant "Cancerversary" with her husband Jack to celebrate three years of being cancer-free, Daisy suffers a devastating blow: her doctor tells her that the cancer is back, but this time it's an aggressive stage four diagnosis. She may have as few as four months left to live. Death is a frightening prospect—but not because she's afraid for herself. She's terrified of what will happen to her brilliant but otherwise charmingly helpless husband when she's no longer there to take care of him. It's this fear that keeps her up at night, until she stumbles on the solution: she has to find him another wife.
With a singular determination, Daisy scouts local parks and coffee shops and online dating sites looking for Jack's perfect match. But the further she gets on her quest, the more she questions the sanity of her plan. As the thought of her husband with another woman becomes all too real, Daisy's forced to decide what's more important in the short amount of time she has left: her husband's happiness—or her own?
What books did you get to stack your shelves with? Anybody get books or gift cards for books this year? New e-readers?
Tamie Xo