The original meme from Midnight Book Girl asks what book has been in your bed this morning?  But, what I want to know is…"What book boyfriend is in your bed this morning?"
I just had to share my love for one of the short stories in the anthology, Baby, It's Cold Outside, because it has such a delectable book boyfriend. Searching For You is written by Jennifer Probst, and Dylan McCray is the guy in my bed this morning. You'll want him in your bed too. He's charming, funny and smart. He's the kind of guy who will keep you on your toes and never let things become boring, but he's also a really caring guy too. He'll sex you up like nobody's business and then do something completely unexpected, but fun and romantic. O…and did I mention that he's also extremely good looking and has tons of money too?!?
I think you'll fall in love with him just like I did, and this is just the first of five stories. The other author's in this anthology are Emma Chase, Kristen Proby, Melody Anne, and Kate Meader. I might just stay in bed all day 😉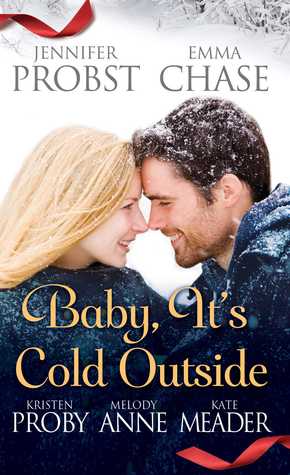 Outside it may be frosty, so turn the heat way up with these stories of desire!
Can a determined woman executive and a playboy billionaire survive being stranded together in a snowstorm? Jennifer Probst depicts an encounter almost too hot to handle…
Drew and Kate play an encore to Tangled in this sexy take on a "Christmas Carol" by Emma Chase. When a Christmas Eve argument condemns Drew to a troubled night, three dream women teach him that no gift could be more tantalizing than Kate…
With Kristen Proby, ski slopes are quite delightful. Grace Douglas is sure she'll never learn to ski, but instructor Jacob Baxter could teach her lessons of a different kind…
Can a southern California transplant survive Montana's deep snows?Melody Anne, author of the bestselling Andersons series, melts the icy drifts completely away with the heat between sexy Hawk Winchester and brand-new teacher Natalie Duncan…
What could be hotter than a firefighter? Kate Meader shows how, as Beck Rivera and heiress-turned-tattoo-artist Lucy Cochrane discover, nothing ignites holiday flames like rekindling a lost love.