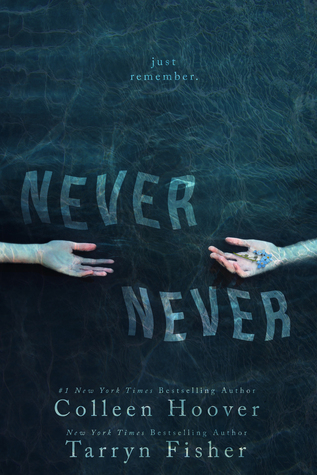 Best friends since they could walk. In love since the age of fourteen. Complete strangers since this morning.
He'll do anything to remember. She'll do anything to forget.
This is not going to be a typical review because Never Never by Colleen Hoover and Tarryn Fisher is not your typical book. Nope, it really isn't. If I had to come up with a label for it, it would be something like…YAborderingonNAwithkindofanoddromancethinghappeninginthemidstofsomestrangeparanormalstuffgoingon… I felt slightly off kilter as I was reading, kind of an Alice falls down the rabbit hole type of feeling. Let me emphasize that this was not a bad thing. I kind of enjoyed it in a weird way.
I was hooked from the get go, and my new reading philosophy of slow down and savor went right out the window. I had to stop at one point because something required me to do so and it really pissed me off, because I didn't want to stop. I wanted answers to all the WTF questions I had going through my head. I resumed reading as soon as I could and didn't stop til I was done. So did my questions get answered? Hell no they did not!
Trying to give you some sort of nonspoiler plot breakdown is a bit difficult as Never Never is not a long book but I'm going to attempt it…briefly. The two main characters are Charlie and Silas. Something has happened so that they are both experiencing the same thing. They can't remember their lives. They realize pretty quickly that even tho they have no memory of each other it's in their best interest to try and figure out what's happened to them together rather than separately. And, that's what they begin doing.
I felt drawn to both characters and the different way they have of handling what's happened to them. I love that it's written in dual POV which I think is crucial for this particular story. The ending is a huge OMG cliffhanger, and I CANNOT wait for the next book to be released, so please, PLEASE, PRETTY PLEASE, Colleen and Tarryn, add me to the list of those begging that it not be too far off.
Never Never merits 5+ mind blown and still reeling book crush status. So go…right now…get it, read it, and then come back and share a spoiler free comment.
Tamie Xo
Here's the cover for the next one…which leaves me with even more questions. Damn IT! 😉