Check out the book I'm recommending for you to read in this Sunday shout out…
If you were to look at the number of paranormal books I read in 2013 vs 2014 you might be tempted to ask what the hell happened last year, because I read very few. No, I didn't suddenly develop a dislike for the genre. Not at all. Instead, there just wasn't enough time to fit them into my schedule with all the romance books I wanted and was offered. This year one of my New Year's books resolutions was to make more time for personal reading choices, and that includes fitting in more from the paranormal genre.
I wanted to share a few thoughts on Burned by Karen Marie Moning which I read this past week with you. I read the Fever series starting back in 2010, and I have to confess that I was not only addicted but obsessed with it. When Shadowfever came out I really thought that was the end of getting to read about one of my all time favorite book boyfriends, Jericho Barrons and his "rainbow girl" MacKayla . When KMM announced the details about the sixth book in the series which is called Iced,  I really wasn't interested because Dani wasn't a character that I particularily loved or wanted to spend an entire book reading about, so I passed.
My reaction was much different when I heard about Burned for obvious reasons…it was going to feature Barrons and Mac.
What I loved in Burned was what I loved in the rest of the books. It has very complex characters and a story line that requires you to pay attention. The interactions between Barrons and Mac are my favorite of course, and their wordless conversations are again pretty priceless, but those with Ryodan deserve a mention as well. There were a few surprises waiting for me, but I think the most notable one centers around the alternative scene KMM released in 2011. It's from Barron's POV, and it was pretty jaw dropping. It was also a huge step up from merely being steamy. That scene has been incorporated into Burned. After I finished reading the book I read a few reviews and people had very mixed feelings about it's inclusion. Some were pretty pissed. I was not. I'm fine with it. I think it was explained in a plausible manner, and it made for some really good tension between Mac and Barrons. Not that those two need any.
Overall, I really enjoyed Burned. Most of it worked for me, and my complaints are small ones. I think it was a bit wordy in some places where it really wasn't necessary, and because KMM is so capable of writing such great sex scenes I was a bit disappointed that she gave us more UST than actual heat between Jericho and MacKayla. It made sense in the earlier books, but after book four, chapter four it really doesn't.  Still, I am really excited for Feverborn which has a release date of October 2015.
This is a series I HIGHLY recommend you read. As I said earlier, I skipped Iced and was able to read Burned just fine without it, so that one is up to you. My shout out has really turned into a review and here's my rating…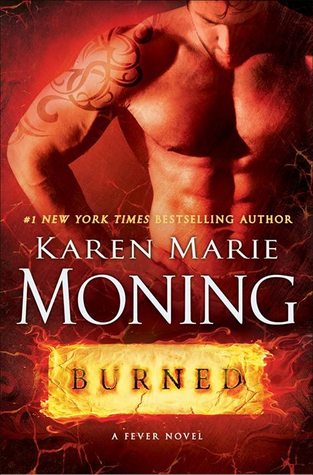 It's easy to walk away from lies. Power is another thing.
MacKayla Lane would do anything to save the home she loves. A gifted sidhe-seer, she's already fought and defeated the deadly Sinsar Dubh—an ancient book of terrible evil—yet its hold on her has never been stronger.
When the wall that protected humans from the seductive, insatiable Fae was destroyed on Halloween, long-imprisoned immortals ravaged the planet. Now Dublin is a war zone with factions battling for control. As the city heats up and the ice left by the Hoar Frost King melts, tempers flare, passions run red-hot, and dangerous lines get crossed.
Seelie and Unseelie vie for power against nine ancient immortals who have governed Dublin for millennia; a rival band of sidhe-seers invades the city, determined to claim it for their own; Mac's former protégé and best friend, Dani "Mega" O'Malley, is now her fierce enemy; and even more urgent, Highland druid Christian MacKeltar has been captured by the Crimson Hag and is being driven deeper into Unseelie madness with each passing day. The only one Mac can depend on is the powerful, dangerous immortal Jericho Barrons, but even their fiery bond is tested by betrayal.
It's a world where staying alive is a constant struggle, the line between good and evil gets blurred, and every alliance comes at a price. In an epic battle against dark forces, Mac must decide who she can trust, and what her survival is ultimately worth.
Tamie Xo