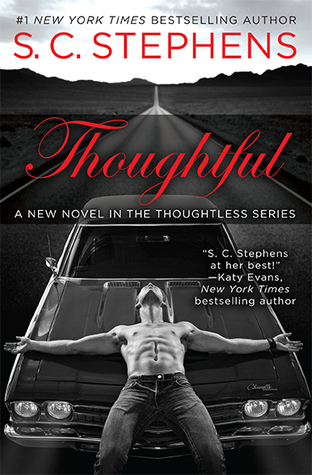 Every story has two sides, and in this new book, the epic love story between Kiera and Kellan is shown through his eyes.
All Kellan Kyle needs is his guitar, and some clean sheets of paper. Growing up in a house that was far from a home, he learned a hard lesson:You're worthless. Now his life is comfortably filled with passionate music, loyal band mates, and fast women…until he meets her.
Kiera makes him ache for more. Makes him feel for the first time that he'sworth more. But there's one problem – she's his best friend's girl.
Just when Kellan thought his emotional defenses were rock solid, Kiera's indecisive heart wreaks havoc on his soul, changing him forever. Losing Kiera is not an option.
When I read Thoughtless by S.C. Stephens back in 2012 it was one of the most gut wrenching reading experiences I'd ever had, but it was also one of the most satisfying. I connected with the characters…especially Kellan, and I was immediately hooked on the extremely emotional storyline. I devoured the next books in the series as soon as they were available, craving more time with the characters and their story. When I was done reading the last book I found myself feeling both happy and content with how everything played out, but I was also incredibly sad that the journey was over. I've reread all the books several times, and they still have the power to make me feel all the feels. Every time. Which is why all the books are on my forever favorites list.
When the author announced that she was writing Thoughtful, which would be Kellan's POV of book one I was ecstatic. I was sure going in it would be an incredibly intense and emotionally difficult story to read…even more so than reading Thoughtless was, that my heart was going to be battered, that my stomach was going to end up in knots, that I would cry. BUT, I was just as sure that I would also feel moments of great happiness, that I would again feel the incredible chemistry and passion between Kellan and Kiera, that I would smile and even laugh. I was right.
Thoughtful is not just a retelling of the first book. It gives us a much more in-depth look at Kellan's past, and into his relationships with others, most notably with his band mates, and in particular with Evan. The bond between these two is very moving, and added so much to the story itself. It felt fresh and new in many ways as things are more fully explained and expanded upon. Questions that I had been left with were answered, and there are quite a few surprises for you to discover.
Kellan's inner dialogue was especially insightful for me. He's an incredibly complex, dynamic character who completely stole my heart yet again. He's most definitely on my top 10 all time favorite and most memorable book boyfriends list. If you were to ask me why, I could tell you things that I love about him and am attracted to, but I think that some characters just have some special, indefinable quality that is unique to each reader. Kellan Kyle belongs in that very select group for me.
Those of you who haven't read the first book probably want to know if it's necessary to do so before reading Thoughtful. My answer to that is two-fold. Technically, no you don't, but in my opinion you'd be cheating yourself of an even richer and profoundly moving reading experience. For those who are already fans of the series I would tell you it's a must read. No matter which group you're in I give it my highest recommendation and book crush status. It was everything I hoped for and more.
Determined to stop thinking, to just go with whatever happened, I dipped my finger into my drink and wet the backs of our hands. Kiera watched every move I made as I shook some salt over our hands. When she made no move to drink her shot, I broke the ice and took mine so she'd feel more comfortable about doing this with me. My throat was numb from doing Jäger shots all night, so it didn't even burn. It burned for Kiera though.
Her tongue came out to lick the salt off her hand, her mouth opened to receive her drink, and her lips curled around the lime, squeezing its juices. It was an erotic thing to watch. Then her face twisted into a grimace. I chuckled at her reaction, then poured us another round.
The second shot went down easier for her. The third was even easier. We didn't talk, just drank. And the more alcohol she consumed, the hungrier her eyes became. She was staring at me as tenaciously as the women in the bar did. I did my best to ignore it, but it was difficult to do…I wanted her to look at me like that. I wanted to look at her like that. But I wasn't about to make any assumptions on what was going to happen tonight. We were just two friends sharing a drink. Two single friends who had almost shared a lot more recently…
By the fourth shot, the alcohol was getting to me. I spilled the tequila trying to pour it in those tiny little glasses. I laughed as I almost dropped the lime from my mouth. I was way beyond buzzing now.
On the fifth shot, everything changed. Just as I was bending down to lick the salt from my skin, Kiera took my hand and ran her tongue over the back of it. She was soft, wet, warm, and felt amazing on my sensitive body. I wanted her to keep doing it, but she pulled back to drink her tequila shot. When she placed her wedge of lime between my lips, my heart sped up. Was she…?
She was. Her mouth reached up to connect with mine. Our lips pressed together as she sucked on the lime. All I could taste was lime and her. It was an intoxicating combination. But it wasn't nearly satisfying enough. I needed more.
My breath felt strained when Kiera pulled away. Ragged. She teasingly removed the lime from her mouth and set it on the counter. When she seductively licked her fingers, my resolve evaporated. I suddenly didn't give a shit what we'd been before, or who we'd been with. I didn't care if she'd dated Denny—that seemed like a long-past memory at the moment. I didn't care about Evan's warnings, my regrettable experience with bedding roommates, my promise to Denny to stay away, or my own decision to not cross that uncrossable line. Kiera kissed me. She wanted me. And fuck, I wanted her too.
I took my shot of tequila straight, slammed the glass on the counter, then pulled her back to my mouth, where she belonged.
Our lips moving together felt better than I had imagined. There was so much eager, pent-up passion, I felt like we were both going to burst into flames. I couldn't get enough of her. My hand on the back of her neck tightened, drawing her in even closer. My other hand found the small of her back. Perfection.
Enter to win a signed set of the complete series, including Thoughtful by clicking here!