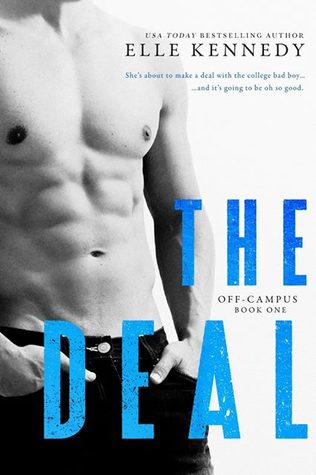 She's about to make a deal with the college bad boy…
Hannah Wells has finally found someone who turns her on. But while she might be confident in every other area of her life, she's carting around a full set of baggage when it comes to sex and seduction. If she wants to get her crush's attention, she'll have to step out of her comfort zone and make him take notice…even if it means tutoring the annoying, childish, cocky captain of the hockey team in exchange for a pretend date.
…and it's going to be oh so good.
All Garrett Graham has ever wanted is to play professional hockey after graduation, but his plummeting GPA is threatening everything he's worked so hard for. If helping a sarcastic brunette make another guy jealous will help him secure his position on the team, he's all for it. But when one unexpected kiss leads to the wildest sex of both their lives, it doesn't take long for Garrett to realize that pretend isn't going to cut it. Now he just has to convince Hannah that the man she wants looks a lot like him.
It's funny how sometimes you read a book by an author who has written many books, but they've somehow managed to escape your attention. Elle Kennedy is one such author for me, and now I want to make sure she's on everybody's radar. The Deal is a new adult book which is the first in the Off-Campus series. I don't know how many books are planned, but I hope it's several because I freaking FLOVED this one.
Garrett Graham…HELLO yummy new book boyfriend…is a star hockey player at Briar, the college he attends. He's a bit of a bad boy in the ladies dept., meaning he's into casual hookups, but he's honest about it. He doesn't do relationships, isn't interested in having one, but he's upfront and unapologetic about it. He's also a bit cocky, but it comes across in an amusing, endearing way rather than being a total turn off. He's not just a jock tho. He's smart and maintains better grades than what he has to be able to play on the school hockey team. He's also very social, but keeps his drinking down to an admirable level considering the stereotypical hot man on campus image that's often written in the genre.
Hannah Wells intrigued me on many levels. She's not one of the "beautiful people" on campus, but I'm not talking about looks here because she's definitely got that going on. No, I'm talking popularity. She's a music major with a beautiful voice, she's shy when it comes to "THE guy" she's interested in, but aside from that she's feisty and sassy, and an incredibly strong kick ass heroine.
As it says in the synopsis, Garrett and Hannah both want something that brings them together, and they strike a deal. How that comes about is pretty damn hilarious, and I gotta give props to Garrett for being creative and relentless in getting Hannah to finally agree. What follows is a fantastic story of friendship, unbelievable chemistry…these two are HOT together…and then, surprising them both, into something much deeper.
I really enjoyed the witty banter between the two of them. Garrett is always trying to push Hannah's buttons, and Hannah gives it right back. It makes for fun and humorous reading. For the most part, the angst level is fairly low, but there does come a point in the story that made me want to crawl into the book to shake some sense into Hannah and scream "NO, this is a VERY bad idea." So yeah, my heart did take a major hit. Also, Garrett and Hannah each have a major and devastating secret that they keep to themselves for most of the book. It's a beautiful thing when they let down their guards and feel enough trust to reveal them to each other.
The secondary characters are important not only in relationship to Garrett and Hannah, but within the story itself. The three that made the biggest impression on me are Logan, Allie, and Dean, for differing reasons. As the series continues I'll be very interested to see what place they have in them.
If you're a fan of well written new adult stories I think you'll love this one as much as I did. If it's not normally your thing, I hope you'll give it a try anyway. I'm giving The Deal a high recommendation, and book crush status. I have grabby hands for what's next from Elle Kennedy, so I hope the wait isn't toooooooo awfully long.
**I received a copy of this book in exchange for an honest review**
Tamie Xo 
Amazon ~ Barnes and Noble ~ Kobo ~ iTunes