Stacking The Shelves is all about sharing the books you are adding to your shelves, may it be physical or virtual. This means you can include books you buy in physical store or online, books you borrow from friends or the library, review books, gifts and of course ebooks!
From Gallery:
OVERRULED by Emma Chase 
Release date: April 28th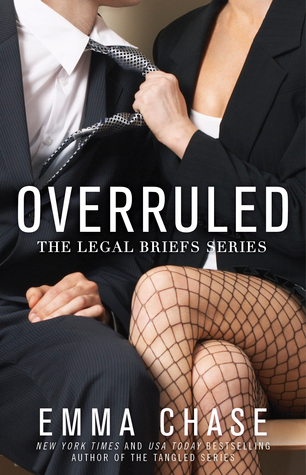 As a DC defense attorney, Stanton Shaw keeps his head cool, his questions sharp, and his arguments irrefutable. They don't call him the Jury Charmer for nothing – with his southern drawl, disarming smile and captivating green eyes – he's a hard man to say no to. Men want to be him and women want to be thoroughly cross examined by him.
Stanton's a man with a plan. And for a while, life was going according to that plan.
Until the day he receives an invitation to the wedding of his high school sweetheart and mother of his beloved ten-year old daughter. Jenny is getting married — to someone who isn't him.
That's definitely not part of the plan.
***
Sofia Santos is a city raised, no-nonsense litigator who plans to become the most revered criminal defense attorney in the country. She doesn't have time for relationships or distractions.
But when Stanton, her "friend with mind-blowing benefits" begs for help, she finds herself out of her element, out of her depth, and obviously out of her mind. Because she agrees to go with him – to The-Middle-Of-Nowhere, Mississippi – to do all she can to help Stanton win back the woman he loves.
Her head tells her she's crazy…and her heart says something else entirely.
***
What happens when you mix a one stop-light town, two professional arguers, a homecoming queen, four big brothers, some Jimmy Dean sausage and a gun-toting Nana?
The Bourbon flows, passions rise and even the best laid plans get overruled by the desires of the heart.
Follow Me Back by A. Meredith Walters 
Release date: June 2nd
Aubrey Duncan has loved…and lost. Should she follow a heart that's betrayed her or a head that tells her to let go?
Maxx Demelo's addiction almost destroyed him. It ruined his life and, most importantly, his relationship with the only girl he ever loved.
He has vowed to become the man Aubrey Duncan deserves. Even if he has to tear himself apart to do it. So he enters rehab, trying to fix the parts of him that are shattered as he longs to be healthy and whole.
Aubrey lost everything because she chose to listen to her heart. Now she has sworn to put herself first, to heal in the only way that she can…far away from Maxx and his demons.
But just as Aubrey is starting over, Maxx is released from rehab and thrust back into her world, determined to prove how much they still need each other. And the chaos that had defined them threatens to unleash once again…
But a heart, no matter how broken, is impossible to ignore.
From: Penguin Group Viking 
Beauty's Kingdom by A. N. Roquelaure, Anne Rice  
Release Date: April 21st
Mega-bestselling author Annie Rice returns to where she left off inBeauty's Release with the disappearance of Queen Eleanor in Bellavalten. Now, twenty years after they were forced to leave the kingdom to return to their homeland, Beauty and her husband Laurent agree to travel back as its king and queen, to uphold the ways of complete sensual surrender, with a twist: they now insist on voluntary servitude in Bellavalten.
Countless eager princes, princesses, lords, ladies, and common folk journey to Beauty's new kingdom where she and her husband awaken their domain, ushering in a new era of desire, longing, and sexual ecstasy. Provocative and stirring, Rice's imaginative retelling of the Sleeping Beauty myth will be hailed by her longtime fans and new readers of erotica just discovering the novels. This book is intended for mature audiences.
Purchased:
Soaring by Kristen Ashley 
Released on March 16th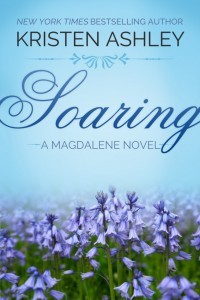 American heiress Amelia Hathaway needs to start anew.
Her husband cheated on her, and when everything she wanted in life slipped through her fingers, she fell apart. When she did, she took another heart wrenching hit as she lost the respect of her children.
When her ex took her family from California to live in the small town of Magdalene in Maine, Amelia decided it was time to sort herself out. In order to do that and win her children back, she moves to Cliff Blue, an architectural masterpiece on the rocky coast of Magdalene.
Her boxes aren't even unpacked when she meets Mickey Donovan, a man who lives across the street, a man so beautiful Amelia takes one look at Mickey and knows she wants everything from him.
The problem is, she finds out swiftly that he's friendly, he's kind, but he doesn't want everything back.
Amelia struggles to right past wrongs in her life at the same time find out who she wants to be. She also struggles with her attraction to the handsome firefighter who lives across the street.
But Amelia will face a surprise when her friendly neighbor becomes not-so-friendly. As Amelia and Mickey go head to head, Amelia must focus on winning back the hearts of her children.
She soon discovers she also must focus on winning the heart of a handsome firefighter who understands down to his soul the beautiful heiress who lives across the street is used to a life he cannot provide.
What books did you stack your shelves with this week?
Tamie Xo