Stacking The Shelves is all about sharing the books you are adding to your shelves, may it be physical or virtual. This means you can include books you buy in physical store or online, books you borrow from friends or the library, review books, gifts and of course ebooks!
From Penguin:
Moonlight On Nightingale Way by Samantha Young 
Release Date: June 2nd
Logan from Echoes of Scotland Street is back with his own smoldering story, as the New York Times bestselling On Dublin Street series returns…
Logan spent two years paying for the mistakes he made. Now, he's ready to start over. He has a great apartment, a good job, and plenty of women to distract him from his past. And one woman who is driving him to distraction…
Grace escaped her manipulative family by moving to a new city. Her new life, made to suit her own needs, is almost perfect. All she needs to do is find her Mr. Right—or at least figure out a way to ignore her irresistible yet annoying womanizer of a neighbor.
Grace is determined to have nothing to do with Logan until a life-changing surprise slowly begins turning the wild heartbreaker into exactly the kind of strong, stable man she's been searching for. Only just when she begins to give into his charms, her own messy past threatens to derail everything they've worked to build…
Midnight Captive by Elle Kennedy 
Release Date: June 2nd
"For those who enjoy their romantic suspense on the dark and steamy side,"* here's the blisteringly sexy new novel in the Killer Instincts series by the author of Midnight Actionand Midnight Pursuits...
Former CIA agent Bailey Jones has spent months trying to forget her night of passion with mercenary Sean Reilly. An elite and methodical assassin, she has no room in her life for a reckless, rule-breaking Irishman, and she's vowed to steer clear of the tempting bad boy who lured her into his bed under false pretenses.
When Sean is implicated in the robbery of a Dublin bank, Bailey knows something isn't right. So what if she can't trust him? There's no way Sean would end up on the wrong side of the law. In fact, he's stuck in the middle of a dark and dirty conspiracy that could put his twin brother's life at risk with one wrong move. And Bailey's life too when she agrees to help.
As the stakes are raised and Bailey finds herself torn between two brothers, the fine line between danger and desire is crossed…and it'll take more than a killer instinct to survive.
The Shadows by J.R. Ward
Released on March 31st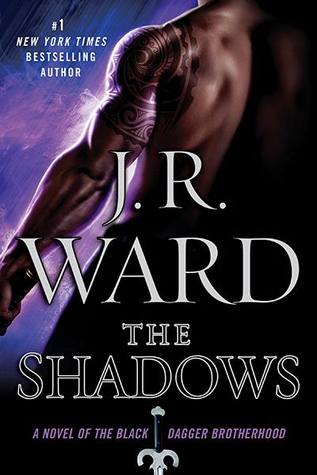 Two brothers bound by more than blood fight to change a brutal destiny in the heart-wrenching new novel of the Black Dagger Brotherhood by #1 New York Times bestselling author J. R. Ward.
Trez "Latimer" doesn't really exist. And not just because the identity was created so that a Shadow could function in the underbelly of the human world. Sold by his parents to the Queen of the S'Hsibe as a child, Trez escaped the Territory and has been a pimp and an enforcer in Caldwell, NY for years- all the while on the run from a destiny of sexual servitude. He's never had anyone he could totally rely on… except for his brother, iAm.
iAm's sole goal has always been to keep his brother from self-destructing- and he knows he's failed. It's not until the Chosen Serena enters Trez's life that the male begins to turn things around… but by then it's too late. The pledge to mate the Queen's daughter comes due and there is nowhere to run, nowhere to hide, and no negotiating.
Trapped between his heart and a fate he never volunteered for, Trez must decide whether to endanger himself and others- or forever leave behind the female he's in love with. But then an unimaginable tragedy strikes and changes everything. Staring out over an emotional abyss, Trez must find a reason to go on or risk losing himself and his soul forever. And iAm, in the name of brotherly love, is faced with making the ultimate sacrifice…
From Pocket Star:
How To Punish Your Playboy by Mina Vaughn 
Release Date: April 6th
In this saucy and funny domination romance, pin-up model Veronika Kane meets sexy, arrogant Aston Delano and decides to teach this playboy a lesson he'll never forget.
When Veronika Kane hears that she's up for Miss Pin Up Las Vegas, she auctions off her classic hot-rod and decides to head out west. But when the man who bought her car, hot restaurateur Aston Delano, asks her to "show him the ropes," his not-so-innocent question takes them down a surprising, sexy road. And as they travel cross-country as Domme/sub, their chemistry sizzles—as do the luscious meals Aston creates.
Torn between the rediscovered pleasure of food and worry about staying in competition shape, Mistress Veronika unexpectedly finds herself as much a pupil as a teacher. Throw in long-distance trouble from her ex and from Aston's family, and it's a potential recipe for disaster. A road trip can be hard on any relationship—will this drive them apart, or will they buckle in for the long haul?
What books did you stack your shelves with this week?
Tamie Xo