The original meme from Midnight Book Girl asks what book has been in your bed this morning?  But, what I want to know is…"What book boyfriend is in your bed this morning?"
As a DC defense attorney, Stanton Shaw keeps his head cool, his questions sharp, and his arguments irrefutable. They don't call him the Jury Charmer for nothing – with his southern drawl, disarming smile and captivating green eyes – he's a hard man to say no to. Men want to be him and women want to be thoroughly cross examined by him.
Stanton's a man with a plan. And for a while, life was going according to that plan.
Until the day he receives an invitation to the wedding of his high school sweetheart and mother of his beloved ten-year old daughter. Jenny is getting married — to someone who isn't him.
That's definitely not part of the plan.
***
Sofia Santos is a city raised, no-nonsense litigator who plans to become the most revered criminal defense attorney in the country. She doesn't have time for relationships or distractions.
But when Stanton, her "friend with mind-blowing benefits" begs for help, she finds herself out of her element, out of her depth, and obviously out of her mind. Because she agrees to go with him – to The-Middle-Of-Nowhere, Mississippi – to do all she can to help Stanton win back the woman he loves.
Her head tells her she's crazy…and her heart says something else entirely.
***
What happens when you mix a one stop-light town, two professional arguers, a homecoming queen, four big brothers, some Jimmy Dean sausage and a gun-toting Nana?
The Bourbon flows, passions rise and even the best laid plans get overruled by the desires of the heart.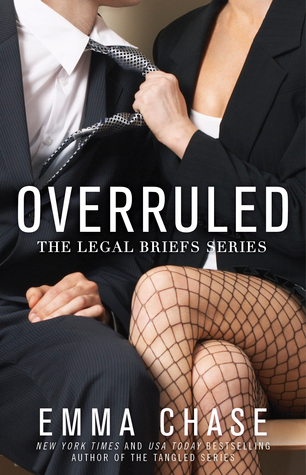 OMG peeps! Stanton Shaw from OVERRULED by Emma Chase is quite simply put…divine, and a MUST have book boyfriend! Is he in the same league as Drew Evans? You bet your sweet ass he is, and I don't say that lightly because… c'mon, Drew Evans is a forever favorite.
So, let me give you a few things to think about regarding Stanton. He's a brilliant lawyer and charming should be his middle name, or maybe sexy charmer, no wait…hot, sexy charmer. And funny too. OOOOOOOOOOO, and God bless Emma because he's also a dirty talker. YES!!!!!!!!!
Now, lemme throw a few descriptive sentences at you…
"A Roman nose and high cheekbones give him a strong, noble look, but Stanton Shaw's all man- not a hint of pretty boy here. I think my favorite part is his jaw. It's porn worthy."
"But it's his smile that draws you in, that disarms. Expert lips that make you want to laugh when they do or provoke the dirtiest of thoughts when they slide into that lazy, lopsided smirk." 
I am without a doubt a certified smirk lover 😉
There's so much to love about Stanton, but I have to let you discover some things on your own, and you don't have too much longer to wait because OVERRULED is releasing on April 28th. Mark your calendars ladies, and be prepared for lots of swooning, sighing, fanning…
Now it's your turn. Who is in YOUR bed this Sunday morning?
Tamie Xo