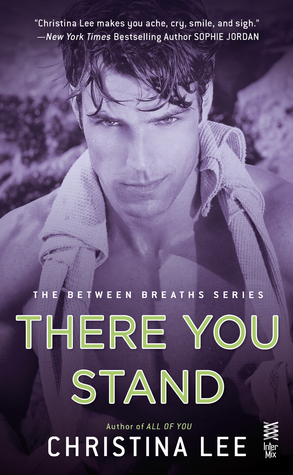 I'm so excited to share an exclusive excerpt with you from There You Stand by Christina Lee. This is book 5 in the Between Breaths series, and as I mentioned earlier in the week, Christina is one of my go to authors. I have loved every single story in this series, and would recommend them all!
From the author of All of You and Before You Break comes a new Between Breaths male/male standalone romance about the silent, inked up skateboarder and the tattoo artist who unravels him piece by piece…
Tattoo artist Cory Easton has worked long enough at Raw Ink to know, just by looking at a dude, what his body art reveals, what makes him tick, what even makes him scared. Until he meets the quiet and remote Jude York—so unreadable, so unreachable, and so unlike anyone else, he can't help but arouse Cory's curiosity.
As captivating and complex as his ink, Jude is a mystery—and Cory's falling fast and hard under his spell. Against his better judgment to steer clear.
The rumors of Jude's past overshadow him—whispers of prison and an unmentionable secret that's kept him in the protective shadows of a local motorcycle club. As Cory probes deeper, he wonders how much he really wants to know. Especially since Jude has awakened something inside him that has been buried too long—and has him feeling completely alive for the first time in forever…
Now let's get to that excerpt which will be followed by the giveaway 🙂
I walked out of the shop and my legs nearly faltered when I saw Jude crouched in front of my dogs, giving them attention. His skateboard lay upside down beside him and Chopper was practically in his lap. His tail was wagging a mile a minute, as if he'd just gotten his rocks off or something. That's how happy that fucking dog was to see him.
 "I don't know what it is about you," I said, without thinking it through first. I heard Jude's breath catch as he twisted his head and stared into my eyes. As his penetrating gaze latched onto mine, I became so mesmerized by those light green orbs, I didn't know if I was talking about the way my dog felt about my crush or the way I did. "He obviously sees something in you he likes."
Yep, just digging myself a larger grave.
Jude's gaze held as he shrugged. So I filled in the dead air again. "No idea why he's always trying so darn hard to get close to you."
I felt a line of heat climb up my neck so I grabbed hold of the leads to untie them from the bike rack, giving my fingers something to do. I looped the leashes around my wrist, and Ace happily stepped toward me. It was the other dog that was about give me the trouble.
I still felt Jude's heavy gaze on me, like he was using the opportunity of our close proximity to check me out. His eyes scanned from my black Chucks to my jeans and up over my vintage Flash Gordon T-shirt. I had on my gray knit cap, the same one I always wore, and my Ray-Bans were looped over the front of my shirt.
Now I wished that my shades were covering my eyes so he was unable to read my reaction to him. So he couldn't see how much he'd unnerved me. I desperately wanted to know exactly what he saw when he looked at me.
When I gave the leash a tug, Chopper unsurprisingly refused to budge and instead rubbed his nose against Jude's arm. "Maybe he likes your cologne or something," I said, sounding fucking ridiculous again. Why couldn't I just shut the hell up?
The corner of Jude's lip lifted fractionally and I nearly lost my breath at how pretty that smile looked. It would probably kill me on the spot if I were ever given the privilege of seeing it in its full glory. It might be as blinding as the dazzling sun. 
I'll be sharing my review of this book with you closer to release date which is April 21st, but I have to say that I can't wait for you to be able to read it 🙂
 Christina is providing a great giveaway for you to enter. You can choose to win one of the following:
An e-copy of any m/m (up to $8.00)
OR
Any other e-book on your TBR list (up to $8.00)
To enter just leave a comment and tell us which prize you'd prefer to win. Winner will be chosen by Random.org
Giveaway is International and will run through Sunday, April 12th.
**No purchase necessary**
You can earn an extra entry if you share this post on twitter or Facebook. Just leave me the link in the comments. Good luck!
Tamie Xo