Stacking The Shelves is all about sharing the books you are adding to your shelves, may it be physical or virtual. This means you can include books you buy in physical store or online, books you borrow from friends or the library, review books, gifts and of course ebooks!
From Penguin:
Sweet by Tammara Webber 
Release Date: April 27th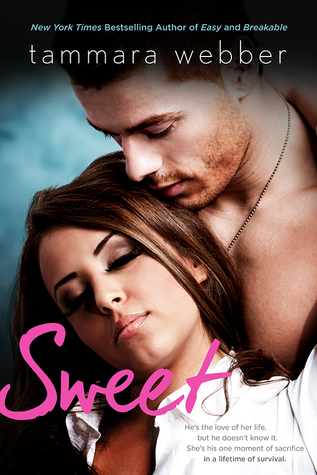 He's the love of her life, but he doesn't know it.
She's his one moment of sacrifice in a lifetime of survival.
He was damaged and wild, but resilient.
She's always been obedient. Now she's restless.
Home for the summer between college and med school, Pearl Torres Frank knows two things: Boyce Wynn is the embodiment of everything she should run from, and everything she wants to run to. Rebellious and loud. Unconcerned with society's opinion of him. Passionate. Strong. Dangerous.
And one more trait he hides from everyone but her:
Sweet.
 From the author:
The Mistake by Elle Kennedy 
Release Date: May 28th
He's a player in more ways than one…
College junior John Logan can get any girl he wants. For this hockey star, life is a parade of parties and hook-ups, but behind his killer grins and easygoing charm, he hides growing despair about the dead-end road he'll be forced to walk after graduation. A sexy encounter with freshman Grace Ivers is just the distraction he needs, but when a thoughtless mistake pushes her away, Logan plans to spend his final year proving to her that he's worth a second chance.
Now he's going to need to up his game…
After a less than stellar freshman year, Grace is back at Briar University, older, wiser, and so over the arrogant hockey player she nearly handed her V-card to. She's not a charity case, and she's not the quiet butterfly she was when they first hooked up. If Logan expects her to roll over and beg like all his other puck bunnies, he can think again. He wants her back? He'll have to work for it. This time around, she'll be the one in the driver's seat…and she plans on driving him wild.
From Random House:
Playing Dirty by C.L. Parker 
Release Date: May 12th
For fans of Bared to You and Beautiful Bastard comes the start of an irresistible new erotic romance series in which competition is the ultimate seduction.
Shaw Matthews plays to win, and he intends to snag a coveted partnership at San Diego's hottest sports agency by signing America's top athlete. Only one woman stands in his way: rival agent Cassidy Whalen. But eliminating the competition will be Shaw's pleasure when he concocts an ingenious plan to seduce Cassidy and show the beautiful ballbreaker who's the better man for the job. That is, until Cassidy turns the tables—and their steamy encounters start breaking all the rules.
Cassidy has worked hard to make it in a man's cutthroat arena, and she isn't going down without a fight, not even against the six-two alpha hunk whose rock-hard body awakens desires she's never known before. As Cassidy shares night after night of unending passion with Shaw, the game begins to change. Now Cassidy stands to lose everything—unless a fiery contest of wills can become a winning proposition for two people who keep raising the stakes.
Playing Dirty is an erotic romance intended for mature audiences.
I also received Elle Kennedy's entire Killer Instincts series (romantic suspense) from Penguin which I'm very excited about.
What did you stack your shelves with this week?
Tamie Xo