Stacking The Shelves is all about sharing the books you are adding to your shelves, may it be physical or virtual. This means you can include books you buy in physical store or online, books you borrow from friends or the library, review books, gifts and of course ebooks!
From Gallery:
Searching For Always by Jennifer Probst
Release Date: June 30th
She's an expert in helping others de-stress, but Arilyn Meadows is running on fumes. Along with her job counseling singles seeking soul mates at the Kinnections agency in Verily, New York, she's a yoga teacher, animal shelter volunteer, anger management therapist, and helping hand to her beloved grandfather. No time to find Mr. Right—but after discovering her yogi boyfriend in a compromising asana, Arilyn would rather dog-sit for her honeymooning friend Kate than risk her heart on another downward dog. And when police officer Stone Petty—radiating masculinity and bad-boy attitude—is sent to her for mandatory lessons in cooling off when the job gets too hot, Arilyn vows to ignore his seductive glances and sexy grin. But there's no halting their sizzling flirtation—a red-hot, high-speed chase that's breaking all the limits.
Lead Me Not by A. Meredith Walters
Released on August 5th 2014
In this dangerously sexy novel from the New York Times bestselling author of Find You in the Dark, a straight-laced college student meets a handsome but enigmatic stranger who lures her into an underground club scene, where she finds it difficult to resist temptation
Aubrey Duncan understands loss. She knows what rock bottom looks like, and she is determined to crawl back up to the top after the sudden death of her younger sister. She blames herself for her part in the tragedy, convinced that she could have done something, anything, to help her.
In her effort to gain redemption, Aubrey starts fresh at Longwood University and facilitates an addiction support group, hoping she can support someone else in the way she failed her sister. But what she doesn't count on is an all-consuming fascination with group member Maxx Demelo, a gorgeous, blond, blue-eyed enigma who hides dark secrets behind a carefully constructed mask. He only reveals what he wants others to see. But Aubrey glimpses another Maxx hidden below the surface—a Maxx who is drowning in his own personal hell.
As Aubrey and Maxx develop an attraction too intense to ignore, he pulls her into the dark underbelly of the city club scene, where she is torn by her desire to save him and an inexplicable urge to join him in his downward spiral. Worst of all, she is beginning to love everything she should run away from—a man who threatens to ignite in her a fire that could burn her alive…
From Penguin:
Dead Ice by Laurell K. Hamilton
Release Date: June 4th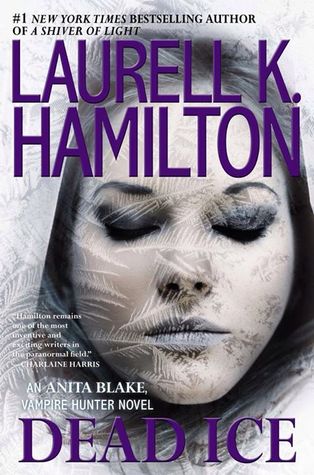 Anita Blake has the highest kill count of any vampire executioner in the country. She's a U.S. Marshal who can raise zombies with the best of them. But ever since she and master vampire Jean-Claude went public with their engagement, all she is to anyone and everyone is Jean-Claude's fiancée.
It's wreaking havoc with her reputation as a hard ass—to some extent. Luckily, in professional circles, she's still the go-to expert for zombie issues. And right now, the FBI is having one hell of a zombie issue.
Someone is producing zombie porn. Anita has seen her share of freaky undead fetishes, so this shouldn't bother her. But the women being victimized aren't just mindless, rotting corpses. Their souls are trapped behind their eyes, signaling voodoo of the blackest kind.
It's the sort of case that can leave a mark on a person. And Anita's own soul may not survive unscathed . . .
From the author:
The Friend Zone by Kristen Callihan 
Release Date: May 5th
Gray doesn't make friends with women. He has sex with them. Until Ivy.
The last thing star tight-end Gray Grayson wants to do is drive his agent's daughter's bubblegum pink car. But he needs the wheels and she's studying abroad. Something he explains when she sends him an irate text to let him know exactly how much pain she'll put him in if he crashes her beloved ride. Before he knows it, Ivy Mackenzie has become his best texting bud. But then Ivy comes home and everything goes haywire. Because the only thing Gray can think of is being with Ivy.
Ivy doesn't have sex with friends. Especially not with a certain football player. No matter how hot he makes her…
Gray drives Ivy crazy. He's irreverent, sex on a stick, and completely off limits. Because, Ivy has one golden rule: never get involved with one of her father's clients. A rule that's proving harder to keep now that Gray is doing his best to seduce her. Her best friend is fast becoming the most irresistible guy she's ever met.
Which means Gray is going to have to use all his skills to get himself out of the friend zone and into Ivy's heart. Game on.
What did you get this week to stack your shelves with?
Tamie Xo