Stacking The Shelves is all about sharing the books you are adding to your shelves, may it be physical or virtual. This means you can include books you buy in physical store or online, books you borrow from friends or the library, review books, gifts and of course ebooks!
From Forever (Grand Central):
Ride Steady by Kristen Ashley 
Release Date: June 30th
he ride of her life . . .
Once upon a time, Carissa Teodoro believed in happy endings. Money, marriage, motherhood: everything came easy—until she woke up to the ugly truth about her Prince Charming. Now a struggling, single mom and stranded by a flat tire, Carissa's pondering her mistakes when a vaguely familiar knight rides to her rescue on a ton of horsepower.
Climb on and hold tight . . .
In high school, Carson Steele was a bad boy loner who put Carissa on a pedestal where she stayed far beyond his reach. Today, he's the hard-bodied biker known only as Joker, and from the way Carissa's acting, it's clear she's falling fast. While catching her is irresistible, knowing what to do with her is a different story. A good girl like Carissa is the least likely fit with the Chaos Motorcycle Club. Too bad holding back is so damned hard. Now, as Joker's secrets are revealed and an outside threat endangers the club, Joker must decide whether to ride steady with Carissa—or ride away forever . . .
From Random House:
Taming Lily by Monica Murphy 
Release Date: July 7th
I'm in trouble. Again. And instead of facing my problems head-on, I've run away. Far away this time, and no one can catch me—not my two younger sisters, Violet and Rose, not my father, my grandmother, or that witch Pilar who wants to take control of my family's cosmetics company. Now I'm in Hawaii, enjoying the sun and sand and water, where nobody knows the hot mess known as Lily Fowler. And I'm loving every minute of it.
But someone is watching me. Following me. He's gorgeous. Soon we're talking, and against all my instincts, I reveal bits and pieces of myself to Max. It feels good, though I know he can't be the man for me. These sudden feelings we share are way too complicated, too fraught, too intense.
Then everything explodes and I'm forced to return home. My intentions have always been true, but now everyone's mad at me. I don't know who to turn to anymore . . . except to Max. He's the one I want to trust. But I'm not so sure I should. Maybe it's worth the risk—what-ifs be damned. . .
Purchased:
Fall With Me by Jennifer Armentrout
Released on March 31st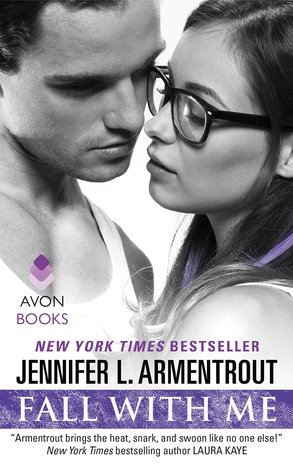 Eleven months ago, bartender and weird-shirt-wearing extraordinaire Roxy and Officer Reece Anders had a one night stand. Well, kind of. She's been in love with him since she was fifteen, and he wishes that night they shared never happened. She's sworn him off forever, but the past and future collide, forcing her to rely on the one man who broke her heart not once, but twice…
What are YOU stacking your shelves with this week?
Tamie Xo