I'm absolutely thrilled to bring you an excerpt from Jennifer L. Armentrout's SCORCHED!! SCORCHED is a standalone New Adult Contemporary Romance and is a part of her Frigid Series. If you Don't forget to enter the awesome giveaway!
Sometimes life leaves a mark…
Most days, Andrea doesn't know whether she wants to kiss Tanner or punch him in the gut. He is seriously hot, with legit bedroom eyes and that firefighter body of his, but he's a major player, and they can't get along for more than a handful of minutes. Until now.
Tanner knows he and Andrea have had an epic love/hate relationship for as long as he can remember, but he wants more love than hate from her. He wants her. Now. Tomorrow. But the more he gets to know her, the more it becomes obvious that Andrea has a problem. She's teetering on the edge and every time he tries to catch her, she slips through his fingers.
Andrea's life is spiraling out of control, and it doesn't matter that Tanner wants to save her, because when everything falls apart and she's speeding toward rock bottom, only she can save herself.
Sometimes life makes you work for that happily ever after…
"You've been avoiding me all day."
"Have not."
He cocked his head to the side and raised both brows. "You practically hid in your room or attached yourself to Syd all day."
"I was…I was spending girl-time with her," I said. "And napping."
"Andrea…"
He'd been right. I had avoided him. Apparently, I wasn't doing that great of a job of it.
"The same with last night. You barely talked to me."
"What?" Dumbfounded, I felt like screaming that word. "I barely talked to you? You ignored me."
He stared at me. "Andy, I—"
"This is stupid. This whole thing is stupid." I lifted the bottle.
A moment passed and he asked, "Do you really think you need another beer?"
Annoyed, I slowly brought the bottle to my mouth and took a long drink. "Does that answer your question?"
The hue of his blue eyes deepened. "Look, I'm not trying to be a dick—"
"You might want to try harder. Just sayin' Might just be my opinion, but thought I'd share."
He opened his mouth and then snapped it shut. Several seconds passed. "You know, I didn't' say that shit to you to piss you off."
I wanted to point out everything he'd done to piss me off, but…but shit on a brick. Anything that I told him would betray how I felt about him, and well, I was already embarrassing myself enough without going there. "You breathed," I decided, nodding, and totally proud of myself. "How about that?"
Shaking his head, he rested his elbows on the island. "You can usually do better than that."
"It's not worth my time to do better." I flounced past him. Well, I might have staggered past him, but in my head, I flounced like a Grade A Uppity Chick, and it was awesome.
"I wish you wouldn't drink so much."
My feet stopped. Dammit. My feet had a mind of their own, and they had stopped because he'd said that so quietly, not with an ounce of derision or scorn. Actually, it sounded like a plea. The alcohol churned in my stomach. All I could see was his look of pity.
"Why do you drink like this?" he asked.
To relax. To not act like a freak. To forget. To remember. To be funny. To have people like me. To not care if they do or don't. To have fun. To just not care. A burning sensation rolled down my back as my head continued to shout out the answers. I just didn't want to care.
I didn't say any of that. "You drink."
"I do. And sometimes I drink and I get drunk, but not every time."
Slowly, I faced him. He wasn't looking at me. His eyes were on the island. "I don't get drunk every time."
He shook his head again. "Andrea, you either get plastered or damn near close. Every time."
"That's not…" I trailed off, and yeah, even I could see where he was right. I could probably count on one hand how many times I'd only had two beers or two shots and then stopped. Come to think of it, I wasn't sure if I everhad.
"My dad got shitfaced all the time," he continued. "Never thought that I'd be interested in a girl who was the same way."
My brain registered two things at once. He was interested in me, which wasn't a big duh. I mean, he'd had his hands in my pants more than once, so yeah, I should've known that. But he compared me to his dad, a man I'd recently discovered he pretty much loathed, which pretty much canceled out the first part. Hurt invaded every cell and festered under the skin. The back of my throat burned and I wanted to rush away.
But I didn't. "That kind of makes you twisted."
Another weak laugh came out of him. "I guess it kind of does."
Enter the giveaway where three winners will win an $50 gift card from Amazon or Barnes and Noble (winner's choice) here. 
Amazon Paperback ~ Amazon Kindle ~ Barnes and Noble ~ iBooks
Check out the 1st book in the series, Frigid…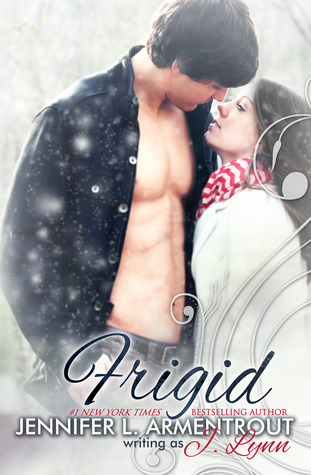 For twenty-one-year-old Sydney, being in love with Kyler isn't anything new. They'd been best friends ever since he pushed her down on the playground and she made him eat a mud pie. Somewhere over the years, she fell for him and fell hard. The big problem with that? Kyler puts the 'man' in man-whore. He's never stayed with a girl longer than a few nights, and with it being their last year in college, Syd doesn't want to risk their friendship by declaring her love.
Kyler has always put Syd on a pedestal that was too high for him to reach. To him, she's perfect and she's everything. But the feelings he has for her, he's always hidden away or focused on any other female. After all, Kyler will always be the poor boy from the wrong side of tracks, and Syd will always be the one girl he can never have.
But when they're stranded together at a posh ski resort due to a massive Nor'easter, there's nothing stopping their red-hot feelings for each other from coming to the surface. Can their friendship survive the attraction? Better yet, can they survive at all? Because as the snow falls, someone is stalking them, and this ski trip may be a life-changer in more ways than one.
Amazon ~ Barnes and Noble ~ iBooks
About Jennifer L. Armentrout:
# 1 NEW YORK TIMES and USA TODAY Bestselling author Jennifer lives in Martinsburg, West Virginia. All the rumors you've heard about her state aren't true. When she's not hard at work writing. she spends her time reading, working out, watching really bad zombie movies, pretending to write, and hanging out with her husband and her Jack Russell Loki.
Her dreams of becoming an author started in algebra class, where she spent most of her time writing short stories….which explains her dismal grades in math. Jennifer writes young adult paranormal, science fiction, fantasy, and contemporary romance. She is published with Spencer Hill Press, Entangled Teen and Brazen, Disney/Hyperion and Harlequin Teen. Her book Obsidian has been optioned for a major motion picture and her Covenant Series has been optioned for TV.
She also writes adult and New Adult romance under the name J. Lynn. She is published by Entangled Brazen and HarperCollins.
Links:
Website ~ Facebook ~ Twitter ~ Novel Goodreads ~ Author Goodreads