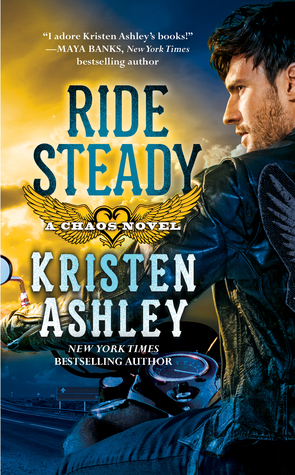 The ride of her life . . .
Once upon a time, Carissa Teodoro believed in happy endings. Money, marriage, motherhood: everything came easy—until she woke up to the ugly truth about her Prince Charming. Now a struggling, single mom and stranded by a flat tire, Carissa's pondering her mistakes when a vaguely familiar knight rides to her rescue on a ton of horsepower.
Climb on and hold tight . . .
In high school, Carson Steele was a bad boy loner who put Carissa on a pedestal where she stayed far beyond his reach. Today, he's the hard-bodied biker known only as Joker, and from the way Carissa's acting, it's clear she's falling fast. While catching her is irresistible, knowing what to do with her is a different story. A good girl like Carissa is the least likely fit with the Chaos Motorcycle Club. Too bad holding back is so damned hard. Now, as Joker's secrets are revealed and an outside threat endangers the club, Joker must decide whether to ride steady with Carissa—or ride away forever . . .
I always have a sense of gleeful anticipation when I begin a book from Kristen Ashley, and I suppose that's because I have yet to encounter one that I didn't get swept up in and enjoy immensely.  The characters are always richly layered as is the story itself. I always have a sense while reading that I would want to know them, to be friends with them. I always feel the emotional highs and lows that the characters experience themselves. I also think that there are subtle lessons to be learned. Lessons about what constitutes family…which is sometimes chosen rather than a circumstance of birth. I find that to be especially true in the Chaos series, and it's a theme that I personally identify with. Ride Steady does not disappoint!
Carson "Joker" Steele  endured a childhood of both abandonment as well as terrible emotional and physical abuse. However, he did experience genuine love and caring from 3 people. He was related to none of them, but I think they helped make the difference between the man Carson became versus the man he could've become. He took off from his abusive home life when he could stand no more. When he returned to Denver seven years later he knew that he wanted to join the Chaos brotherhood, and he did what he needed to do to make that happen.
Carissa Teodoro was a cheerleader who had suffered several devastating events, but who came from a loving family. She was good and kind, and didn't participate in the meanness that can sometimes occur in the upper cliques of high school. She was not a girl who had a strong ambition for a high paying, fancy career. No, what she wanted was simple and fundamental. To be a great wife and mother who created a happy and loving family life. She thought she would have that with Aaron Neiland. Sadly, she was wrong.
Carson and Carissa knew each other in high school, but what they failed to realize is that each had a crush on the other. When they finally meet again it happens on a roadside where Joker has come to her rescue, and while Joker recognizes Carissa, she does not do the same. Still, he makes a huge impression, and she is determined to seek him out and to thank him. And so it begins.
What follows is a tremendous story of second chance love for two people who truly deserve it. There are obstacles for them to overcome. Feelings of self-doubt, and not being good enough arise for both of them. Carissa's ex-husband tries his best to interfere, and to reclaim her. You'll absolutely loathe the man!
One of the things I love best is that despite his initial hesitation, it's Joker who really understands all of Carissa's deep-seated fears and insecurities. He's gentle yet straight forward in how he deals with her. He doesn't want to change her into something else. He just wants her to be happy and fulfilled and to truly understand what a wonderful person she is. I also love the ease in which he responds to her very young son, Travis.
I think one of the most emotional moments for me happens during a scene that takes place after Aaron has tried once again to mess with Carissa and is basically threatening to take away her child.  Joker offers to walk away saying…
"It'll kill me. I want you in my life. I want your son in my life. I like what we got, and I like the idea of where we're going, what we're building. Never dreamed in my life. But now I dream of that. Givin' it to you. Givin' you your Candy. And more. Havin' that for me. But for you and your boy, you need  me to, I'll walk away." 
It continues and I'll share that I ugly cried.
"Carissa, if this has to happen, it's gotta happen now," he declared. "You need this done, I gotta walk out that door. You give me more of you, more of Trav, make that decision later, you'll strip  somethin' off of me that'll never heal." 
Pure and absolute beauty.
I have to mention that Ride Steady includes many favorite characters not only from other Chaos series books, but from others as well. Lee and Hank Nightingale, Hawk Delgado, Knight Sebring, Mitch and Brock to name several, all make appearances, and that rocks! Their inclusion makes the story even better and Kristen is one of the very best authors in the way she provides continuity through the bigger family and community that is always present in her books. It's one of the many reasons she is and continues to be one of my forever favorites.
The journey that these two take is unforgettable. Joker and Carissa…who he calls Butterfly…are two characters who will steal your heart…deservedly so. I absolutely give Ride Steady my highest recommendation and book crush status. I laughed, I cried, I got pissed off, I felt hope and joy, and all the feels for the heat which Kristen always writes exceptionally well. This book releases tomorrow and is worth every single penny! I've already done one reread, and I know it won't be the last time.
**I received a copy of this story in exchange for an honest review.**
Tamie Xo