Stacking The Shelves is all about sharing the books you are adding to your shelves, may it be physical or virtual. This means you can include books you buy in physical store or online, books you borrow from friends or the library, review books, gifts and of course ebooks!
I need to do a little catching up so here we go…
From Gallery:
YOU'VE GOT MAIL meets HOW TO EAT A CUPCAKE in this delightful novel about a talented chef and the food critic who brings down her restaurant—whose chance meeting turns into a delectable romance of mistaken identities.
In downtown Milwaukee, Wisconsin, Lou works tirelessly to build her beloved yet struggling French restaurant, Luella's, into a success. She cheerfully balances her demanding business and even more demanding fiancé…until the morning she discovers him in the buff—with an intern.
Witty yet gruff British transplant Al is keeping himself employed and entertained by writing scathing reviews of local restaurants in the Milwaukee newspaper under a pseudonym. When an anonymous tip sends him to Luella's, little does he know he's arrived on the worst day of the chef's life. The review practically writes itself: underdone fish, scorched sauce, distracted service—he unleashes his worst.
The day that Al's mean-spirited review of Luella's runs, the two cross paths in a pub: Lou drowning her sorrows, and Al celebrating his latest publication. As they chat, Al playfully challenges Lou to show him the best of Milwaukee and she's game—but only if they never discuss work, which Al readily agrees to. As they explore the city's local delicacies and their mutual attraction, Lou's restaurant faces closure, while Al's column gains popularity. It's only a matter of time before the two fall in love…but when the truth comes out, can Lou overlook the past to chase her future?
Set in the lovely, quirky heart of Wisconsin, THE COINCIDENCE OF COCONUT CAKE is a charming love story of misunderstandings, mistaken identity, and the power of food to bring two people together.
Billionaire playboy? Check.
Ruthless businessman? Check.
Absolutely sinful? Check.
Malcolm Saint was an assignment. A story. A beautiful, difficult man I was supposed to uncover for a racy exposé.
I intended to reveal him, his secrets, his lifestyle—not let him reveal me. But my head was overtaken by my heart and suddenly nothing could stop me from falling. I fell for him, and I fell hard.
Malcolm Saint is absolute Sin, and I've become a hopeless Sinner.
Now that the assignment is over, Saint wants something from me–something unexpected–and I want this wicked playboy's heart. But how can I prove to the man who trusts no one that I'm worthy of becoming his plus one?
The long-awaited follow-up novel to the runaway New York Timesbestseller Just One Night—which Publishers Weekly gave a starred review and proclaimed, "Davis skillfully creates an uplifting story in which sex is presented both as freedom and as a metaphor for power, and where raw chemistry is the clear winner over bland complacency."
In the instant international sensation Just One Night, sensible Kasie Fitzgerald unleashed her passions—and found herself—through an explosive affair. In Just One Lie, we meet Kasie's wild and tortured sister, whose impulsivity and lack of self-control has set off a chain of events that changes her family forever.
Melody Fitzgerald is the opposite of the "perfect" daughter. The lead singer of an indie rock band, she is impulsive and creative, with a rebellious streak that both defines her and becomes her greatest enemy. Her lover, the enticing and unpredictable Ash, shares her free spirit and penchant for trouble. On the face of it, he seems to be her perfect match.
So why is she so drawn to her soft spoken, reliable drummer, Brad Witmer? How can a man who wears polo shirts and reads the financial section of the paper be of any interest to her at all? And why on earth does someone like that appear to be so captivated by her?
Before she knows it, Melody finds herself on a path of self-discovery, passion, and affairs of the heart. But will a dark secret from her past derail it all? Or will its exposure be the very thing that unburdens her heart and allows her to seek a future with the one man who loves her completely?
A knight in tarnished armor is still a knight.
When you're a defense attorney in Washington, DC, you see firsthand how hard life can be, and that sometimes the only way to survive is to be harder. I, Jake Becker, have a reputation for being cold, callous, and intimidating—and that suits me just fine. In fact, it's necessary when I'm breaking down a witness on the stand.
Complications don't work for me—I'm a "need-to-know" type of man. If you're my client, tell me the basic facts. If you're my date, stick to what will turn you on. I'm not a therapist or Prince Charming—and I don't pretend to be.
Then Chelsea McQuaid and her six orphaned nieces and nephews came along and complicated the ever-loving hell out of my life. Now I'm going to Mommy & Me classes, One Direction concerts, the emergency room, and arguing cases in the principal's office.
Chelsea's too sweet, too innocent, and too gorgeous for her own good. She tries to be tough, but she's not. She needs someone to help her, defend her…and the kids.
And that — that, I know how to do.
From Penguin:
The author of Below the Belt continues her First to Fight series with a novel of one Marine's battle to come out on top—in life and love…
As a troubled teen, Gregory Higgs channeled his energy into boxing instead of breaking the law. The ring gave him purpose and something to strive for. So did the Marines. Combining the two seemed like a natural fit.
Another natural fit? Reagan Robilard, the sweet athlete liaison who keeps all the fighters out of trouble and manages their PR—a job that gets more challenging when someone digs up the truth about Greg's not-so-shiny past after equipment is vandalized at the gym.
Even if it wasn't her job, Reagan can't let Greg take the fall. Because passion doesn't pull any punches when it comes to matters of the heart…
In the latest Play-by-Play novel from the New York Timesbestselling author of Quarterback Draw, a sexy baseball player is done striking out…
Tucker Cassidy is going through a slump—but not on the field. It's his dating life that's suffering. After having a painful altercation involving his ex-girlfriend's knee, Tucker is convinced it couldn't get worse…until a gorgeous doctor comes to the rescue at his most embarrassing moment.
As the daughter of the owner of the St. Louis Rivers, Dr. Aubry Ross has been around jocks all her life. She knows the ins and outs of all their games, and she isn't interested in playing.
When Tucker repeatedly lands in the hospital where she's working, Aubry starts to think he's getting injured just to see her. Tucker is both funny and sexy, and Aubry is pleasantly surprised to discover he actually respects her job.
When her father disapproves of their relationship, Aubry knows she'd rather lose Tucker than have him lose his job. But Tucker isn't about to let threats of a trade get in the way of a game-changing love…
And a very prized possession…a hardback copy of The Bourbon Kings by J.R. Ward!
They also sent along a really cool folder with the same cover.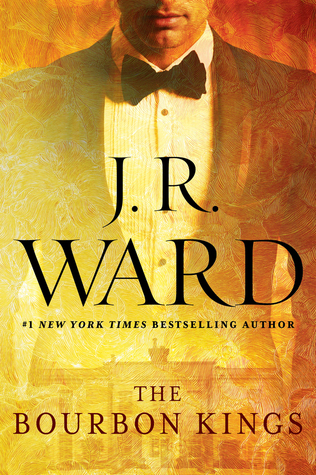 For generations, the Bradford family has worn the mantle of kings of the bourbon capital of the world. Their sustained wealth has afforded them prestige and privilege—as well as a hard-won division of class on their sprawling estate, Easterly. Upstairs, a dynasty that by all appearances plays by the rules of good fortune and good taste. Downstairs, the staff who work tirelessly to maintain the impeccable Bradford facade. And never the twain shall meet.
For Lizzie King, Easterly's head gardener, crossing that divide nearly ruined her life. Falling in love with Tulane, the prodigal son of the bourbon dynasty, was nothing that she intended or wanted—and their bitter breakup only served to prove her instincts were right. Now, after two years of staying away, Tulane is finally coming home again, and he is bringing the past with him. No one will be left unmarked: not Tulane's beautiful and ruthless wife; not his older brother, whose bitterness and bad blood know no bounds; and especially not the ironfisted Bradford patriarch, a man with few morals, fewer scruples, and many, many terrible secrets.
As family tensions—professional and intimately private—ignite, Easterly and all its inhabitants are thrown into the grips of an irrevocable transformation, and only the cunning will survive.
What did you get to stack your shelves with?
Tamie Xo