To play along just answer the following questions…
1) What are you currently reading? 2) What did you recently finish reading? 3) What do you think you'll read next?
1) What are you currently reading? Sustained by Emma Chase
A knight in tarnished armor is still a knight.
When you're a defense attorney in Washington, DC, you see firsthand how hard life can be, and that sometimes the only way to survive is to be harder. I, Jake Becker, have a reputation for being cold, callous, and intimidating—and that suits me just fine. In fact, it's necessary when I'm breaking down a witness on the stand.
Complications don't work for me—I'm a "need-to-know" type of man. If you're my client, tell me the basic facts. If you're my date, stick to what will turn you on. I'm not a therapist or Prince Charming—and I don't pretend to be.
Then Chelsea McQuaid and her six orphaned nieces and nephews came along and complicated the ever-loving hell out of my life. Now I'm going to Mommy & Me classes, One Direction concerts, the emergency room, and arguing cases in the principal's office.
Chelsea's too sweet, too innocent, and too gorgeous for her own good. She tries to be tough, but she's not. She needs someone to help her, defend her…and the kids.
And that — that, I know how to do.
2) What did you recently finish reading? Sweet As Sin by J.T. Geissinger 
Twentysomething Kat Reid is loving life as an in-demand Hollywood makeup artist. She has absolutely no interest in rock 'n' roll, but in order to pay the mortgage, she agrees to work on the set of a rock video for the world-famous rockers known as Bad Habit…which brings her face-to-face with Nico Nyx, lead singer of Bad Habit and Adonis in the flesh.
However, the fiercely independent Kat isn't impressed by the hard-living, womanizing rock star. But when Nico's model girlfriend shows up to the set drunk and Kat is tapped to replace her as the video's sexy bride, her combustible chemistry with Nico suddenly threatens to consume the set. Nico feels it, too—and becomes determined to win Kat over, body and soul. Yet behind his rock god swagger, Nico hides a dark secret. Can he rock Kat's world forever, or will he just break her heart?
3) What do you think you'll read next? Him by Elle Kennedy and Sarina Bowen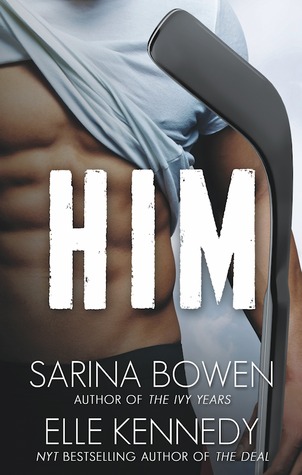 They don't play for the same team. Or do they?
Jamie Canning has never been able to figure out how he lost his closest friend. Four years ago, his tattooed, wise-cracking, rule-breaking roommate cut him off without an explanation. So what if things got a little weird on the last night of hockey camp the summer they were eighteen? It was just a little drunken foolishness. Nobody died.
Ryan Wesley's biggest regret is coaxing his very straight friend into a bet that pushed the boundaries of their relationship. Now, with their college teams set to face off at the national championship, he'll finally get a chance to apologize. But all it takes is one look at his longtime crush, and the ache is stronger than ever.
Jamie has waited a long time for answers, but walks away with only more questions—can one night of sex ruin a friendship? If not, how about six more weeks of it? When Wesley turns up to coach alongside Jamie for one more hot summer at camp, Jamie has a few things to discover about his old friend…and a big one to learn about himself.
Warning: contains sexual situations, skinnydipping, shenanigans in an SUV and proof that coming out to your family on social media is a dicey proposition.
What are your three W's this week?
Tamie Xo