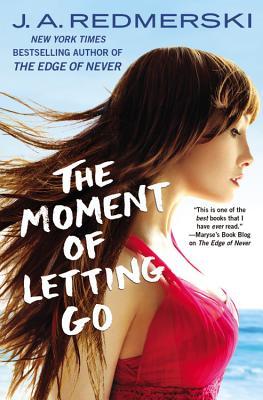 Sienna Murphy never does anything without a plan. And so far her plans have been working. Right after college, she got a prestigious job and gained the stability she'd always craved-until work takes her to the sun-drenched shores of Oahu and places her in the path of sexy surfer Luke Everett. For the first time, she lets her heart take control. Drawn to his carefree charm, she makes a spontaneous and very un-Sienna-like decision to drop everything and stay in Hawaii for two more weeks.
Luke lives fast and wild. When he meets Sienna, he's convinced that some no-strings-attached fun is just what she needs. As their nights quickly turn from playful to passionate, Luke can't deny the deep connection he feels. But there's a reason Luke doesn't do long-term. He can't promise Sienna forever, when the enormity of his past has shown him just how fragile the future can be . . .
I was so excited when I received an ARC of, The Moment of Letting Go by J.A. Redmerski, because I'm such a fan of the way she writes, the stories she writes, and the unforgettable characters she writes. My favorite books are those that I'm able to just lose myself in, that I want to just keep reading, because I'm so caught up in the story and the characters that I don't want to put the book down. The Moment of Letting Go is that kind of book.
I found myself relating to Sienna on many levels. She's got a kick ass job as a high-profile event planner and she's good at it. She's also got her life planned out as well. She grew up in a family that struggled financially, and she's determined that she won't have that kind of life. She puts everything into her job because she thinks that the security it brings is what's important. When she goes to Oahu for a wedding that she's in charge of, she never dreams it could change her life. And then she meets Luke.
Luke comes across as an "in the moment", carefree kind of guy at first. I was instantly intrigued by him because usually that type of guy has much deeper layers to be discovered. That is definitely true of Luke. He's also gorgeous and has a killer body. As a reader that is not a hardship to endure. I liked him right away and my feelings for him just continued to grow as the story progressed.
When Luke and Sienna meet there's instant attraction and chemistry, but there is not insta-sex, or insta-love. The relationship is allowed to grow once Luke is able to convince Sienna to take a step back from her very ordered and controlled life. This is where the story really kicks into high gear. I love how Luke gets Sienna to think outside the little box she's put herself into. She begins to open up to the possibilities that there is so much more to enjoy in life, other than financial security. Sienna returns the favor by getting Luke to realize that holding onto the past, and living a life based on that past keeps him in a box of his own.
I really love how this couple interacts throughout the story, how they complement each other with their differences, how they each struggle and grow with their different fears, both independently and together. There were a lot of surprises and twists. More so where Luke was concerned, which makes for such a great reading experience. The secondary characters are outstanding. I didn't love all of them…one in particular, but they are all important to the whole of the story.
I enjoyed The Moment of Letting Go immensely which is why it made my list of favorites so far in 2015, and why I'm giving it a high recommendation and book crush status. It's a perfect summer escape book, and I strongly urge you to grab it tomorrow when it releases. It was a real joy and pleasure to read.
**I was given a copy of this book in exchange for an honest review**
Tamie Xo