Stacking The Shelves is all about sharing the books you are adding to your shelves, may it be physical or virtual. This means you can include books you buy in physical store or online, books you borrow from friends or the library, review books, gifts and of course ebooks!
From Penguin:
Madame X by Jasinda Wilder
Release Date: October 6th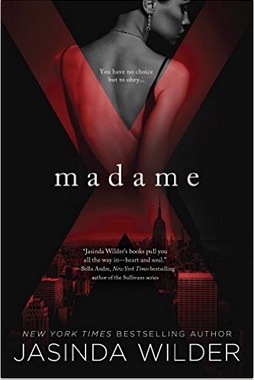 Madame X invites you to test the limits of control in this provocative new
novel from New York Times bestselling author Jasinda Wilder.
 
My name is Madame X.
I'm the best at what I do.
And you'd do well to follow my rules…
 
Hired to transform the uncultured, inept sons of the wealthy and powerful into decisive, confident men, Madame X is a master of the art of control. With a single glance she can cut you down to nothing, or make you feel like a king.
But there is only one man who can claim her body—and her soul.
Undone time and again by his exquisite dominance, X craves and fears his desire in equal measure. And while she longs for a different path, X has never known anything or anyone else—until now..
 Redemption Road by Katie Ashley
Release Date: October 6th
The New York Times bestselling author of Vicious Cycleplunges readers into a world of danger and desire in her newest in the Vicious Cycle motorcycle club romance series.
Looking for a walk on the wild side, Annabel Percy, the daughter of a powerful politician, starts dating a biker she knows is completely wrong for her. But she finds herself living a nightmare when she's kidnapped and transported into a hell on earth she never could have imagined.
Born and bred into the Hells Raiders MC, Nathaniel "Reverend" Malloy lives and dies for his brothers. But when he becomes the unexpected savior of a rival club's captive, Rev makes it his personal mission to nurse Annabel back to health—and to shelter her from the nightmares that torment her.
Once Annabel heals, she's stunned to realize she is falling for the seductive man who saved her. Faced with their impossible attraction, can she accept the life he leads, or will Rev walk away from the only life he's ever known for the woman he was never supposed to love?
Against the Ropes by Jeanette Murray
Release Date: October 6th
The author of Below the Belt continues her First to Fight series with a novel of one Marine's battle to come out on top—in life and love…
As a troubled teen, Gregory Higgs channeled his energy into boxing instead of breaking the law. The ring gave him purpose and something to strive for. So did the Marines. Combining the two seemed like a natural fit.
Another natural fit? Reagan Robilard, the sweet athlete liaison who keeps all the fighters out of trouble and manages their PR—a job that gets more challenging when someone digs up the truth about Greg's not-so-shiny past after equipment is vandalized at the gym.
Even if it wasn't her job, Reagan can't let Greg take the fall. Because passion doesn't pull any punches when it comes to matters of the heart…
Wrapped and Strapped by Lorelei James
Release date: November 3rd
In the new Blacktop Cowboys® Novel from the New York Times bestselling author of Hillbilly Rockstar strange bedfellows find common ground after the lights go down…
Flower child, vegetarian and humanitarian Harlow Pratt and gruff and strapping cattle ranch foreman Hugh Pritchett have been taunting each other for years. Hugh thinks she's nothing but a spoiled rich girl, and he's had enough of that life with his ex-wife. Harlow thinks Hugh is an ill-mannered trouble-maker who wouldn't know fun if it bit him on his tight denim-clad butt.
When they're forced together at the Split Rock Ranch and Resort, everything changes. They might be polar opposites, but working out their differences skin to skin, in the dark, seems to help their incompatibility a lot. But when trouble from both their pasts comes calling, Harlow and Hugh have no one else to lean on. Can they trust one another enough to make it through the hard times together… or will their tentative truce fall apart?
From Gallery:
The Drafter by Kim Harrison
Release Date: September 1st
Detroit 2030. Double-crossed by the person she loved and betrayed by the covert government organization that trained her to use her body as a weapon, Peri Reed is a renegade on the run.
Don't forgive and never forget has always been Peri's creed. But her day job makes it difficult: she is a drafter, possessed of a rare, invaluable skill for altering time, yet destined to forget both the history she changed and the history she rewrote.
When Peri discovers her name on a list of corrupt operatives, she realizes that her own life has been manipulated by the agency. She joins forces with a mysterious rogue soldier in a deadly race to piece together the truth about her final task, unable to trust even herself.
What did you get to stack your shelves with?
Tamie Xo