To play along just answer the following questions… 1) What are you currently reading? 2) What did you recently finish reading? 3) What do you think you'll read next?
1) What are you currently reading? Hold On by Kristen Ashley
Since she was young, Cher Rivers knew she was not the kind of girl who got what she wanted. A girl who could hope. A girl who could dream. She knew a happily ever after just wasn't in the cards for her.
In love for years with the last bastion of the 'burg's eligible bachelors, Garrett Merrick, Cher worked hard at making him laugh. Being one of the guys. Having him in her life the only way she could. All this knowing he was in love with another woman.
The Merrick Family is known for loving deep. So when Cecelia Merrick was murdered, it marked the Merricks in a way none of them recovered. Both Cecelia's children found love. Both turned their backs on it. But Garrett "Merry" Merrick knew in his soul the woman he divorced years ago was the one for him.
Until the night when Cher took Garrett's back and things changed. The Merrick family loves deep. They also protect fiercely. And with his eyes finally open, Garrett sees the woman who truly is for him and he goes after her.
2) What did you recently finish reading? Aflame by Penelope Douglas
The tables have turned. Now I have the power—and it's his turn to beg…
Everyone wants to be me.
Maybe it's the sway of my skirt or the way I flip my hair, but I don't care. Even though their attention is the last thing I crave, I just can't stop. I dominate the track, the speed rattles my bones, and the wind and the crowd screams my name.
I'm her. The girl driver. The queen of the race. And I'm surviving—something he thought I'd never do.
They all still talk about him. Did you see Jared Trent on T.V? What did you think of his last race, Tate? When is he coming back to town, Tate?
But I refuse to care too much. Because when Jared does come home, I won't be here.
Tatum Brandt is gone. I'm someone new.
3) What do you think you'll read next? Madame X by Jasinda Wilder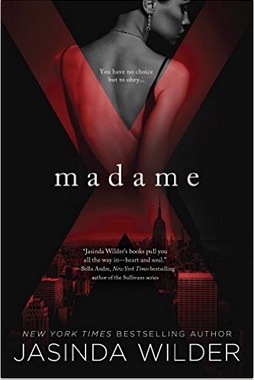 Madame X invites you to test the limits of control in this provocative new
novel from New York Times bestselling author Jasinda Wilder.
 
My name is Madame X.
I'm the best at what I do.
And you'd do well to follow my rules…
 
Hired to transform the uncultured, inept sons of the wealthy and powerful into decisive, confident men, Madame X is a master of the art of control. With a single glance she can cut you down to nothing, or make you feel like a king.
But there is only one man who can claim her body—and her soul.
Undone time and again by his exquisite dominance, X craves and fears his desire in equal measure. And while she longs for a different path, X has never known anything or anyone else—until now…
What are your W's this week?
Tamie Xo