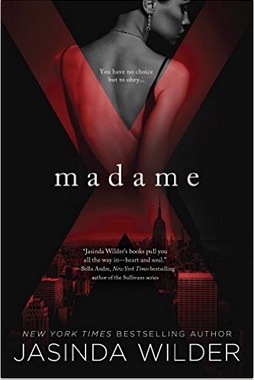 My name is Madame X.
I'm the best at what I do.
And you'd do well to follow my rules…
 
Hired to transform the uncultured, inept sons of the wealthy and powerful into decisive, confident men, Madame X is a master of the art of control. With a single glance she can cut you down to nothing, or make you feel like a king.
But there is only one man who can claim her body—and her soul.
Undone time and again by his exquisite dominance, X craves and fears his desire in equal measure. And while she longs for a different path, X has never known anything or anyone else—until now…
Madame X by Jasinda Wilder took me by surprise on many levels. The story line felt very fresh, and I found the way the narrative was written to be quite different from what I'm used to. I liked the uniqueness of it a lot. This is not a shocker given that Jasinda is a favorite author.
There are things I can't share because they would be spoilerish. How Madame X got her name is a great example. The story behind it is unexpected and I know you'll enjoy finding it out for yourself. I will say that I found her to be quite fascinating as is the story. It's really quite the page turner!
There are a couple of men worth mentioning…
Caleb is one of the most enigmatic characters I've ever read. I don't fully get him or his motivations yet, and I have no doubt that Jasinda did that on purpose. I'm hoping that's the case, and that the next book will bring clarity for me regarding this character. Right now my feelings about him are firmly in the undecided camp.
Logan is "the other guy"…maybe, sorta, kinda, and while he's easier to warm up to he's not exactly an open book either. I have a feeling that there's way more than meets the eye where this guy is concerned.
Madame X is provocative, sexy, and stimulating. It's wonderfully written, and will leave you wanting more. It's definitely earned a place on my recommended reads list! It's releasing tomorrow (October 6th) and I can't wait for you to read it and then share your thoughts with me 🙂
In case you missed it you can read an excerpt here. It's steamy and definitely NSFW!
Tamie Xo
Jasinda Wilder is a New York Times, USA Today, Wall Street Journal, and international bestselling author. She is a Michigan native and currently lives there with her family. Visit her official website at jasindawilder.com. 
**I received a copy of this book in exchange for my honest opinion**