Stacking The Shelves is all about sharing the books you are adding to your shelves, may it be physical or virtual. This means you can include books you buy in physical store or online, books you borrow from friends or the library, review books, gifts and of course ebooks!
From Penguin:
One King's Way by Samantha Young
Release Date: November 3rd
The New York Times bestselling author of On Dublin Street returns to the bar where it all began with Braden and Joss for a white-hot new novella full of passion and drama.
When he's not working at the club, Craig Lanaghan looks out for his mother and little sisters. So when it comes to women, all he wants is a good time. But once Rain Alexander walks into his life, there's no denying that this woman could be worth much more than a one-night stand….
Rain's lifelong regret is having left her sister Darcy alone years ago with a guardian who turned out to be abusive. So when Darcy's boyfriend publicly humiliates her in a cruel way, Rain's overprotective instincts kick in and she follows him to Club 39—where she meets a guy who just might be her perfect match.
The chemistry between Rain and Craig is explosive, but Rain is out for revenge, and refuses to be sidetracked by flirtation. As things between them heat up, she'll have to make a heartbreaking choice between giving in to the man of her dreams or putting her sister's happiness first…
Misconduct by Penelope Douglas
Release Date: December 1st
From the New York Times bestselling author of the Fall Away series who never fails to deliver a "powerfully written contemporary love story…"*
Former tennis player Easton Bradbury is trying to be the best teacher she can be, trying to reach her bored students and trying to forget her past. What brought her to this stage in her life isn't important. She can't let it be. But now one parent-teacher meeting may be her undoing…
Meeting Tyler Marek for the first time makes it easy for Easton to see why his son is having trouble in school. The man knows how to manage businesses and wealth, not a teenage boy. Or a young teacher, for that matter, though he tries to. And yet…there is something about him that draws Easton in—a hint of vulnerability, a flash of attraction, a spark that might burn.
Wanting him is taboo. Needing him is undeniable. And his long-awaited touch will weaken Easton's resolve—and reveal what should stay hidden…
(*STANDALONE, NO CLIFFHANGER*)
The Master by Tara Sue Me
Release Date: February 2nd 2016
Fans of E. L. James, Sylvia Day, Maya Banks and Beth Kery will be seduced by New York Times bestselling author Tara Sue Me's electrifying Submissive series. The Master is a delicious new story that explores the thin line between pleasure and pain…
She's ready to try again… Sasha Blake is scarred from a BDSM session gone wrong, but she can't deny how drawn she is to a strong Master. Determined to rejoin the Partners in Play community, she asks Abby and Nathaniel West to set her up with a Dom who will make her feel safe again as a sub.
Cole Johnson knows how to push all of Sasha's buttons, but he's convinced she's not the submissive he needs. Still, the further they go into their play, the more Cole begins to wish he could make Sasha his all the time…
When forbidden desires turn into scorching action, Sasha and Cole come face-to-face with their demons – and realize their deepening relationship might be too dangerous to last…
From St. Martin's Press:
Until We Break by Jamie Howard
Release Date: November 10th
When Sloane Avery stops to help a stranded driver, she finds more than a broken down car on the side of the road. Luke Evans is faster and sexier than her Maserati, but with her heart still on the mend, she's not interested in taking him for a test drive. Despite their initial disdain for each other, emotion and passion simmer, complicating their fragile friendship. But when a tragic loss and devastating betrayal send them spiraling, their growing love isn't enough to save them.
That was five years ago, practically a different lifetime and definitely a different Sloane. Before she's been hardened by booze, sex, and as much distance as she could get from the past. Now, called home on a family emergency, she's determined to hold onto her heart the next time she sees Luke.
Except Sloane's not the only one who's changed. Luke's turned his life around. Only the reappearance of Sloane and the reminder of his biggest mistake can put a dent in his plans. Luke is set on fixing what he's broken. But with her emotions boiling to the surface, Sloane needs to decide if falling in love is life's greatest gift or its cruelest joke.
From Gallery:
True Divide by Liora Blake
Release Date: October 19th
Spitfire Lacey Mosely feels stuck in a life she didn't necessarily want. But will she find a happy ending with the man who broke her heart? Liora Blake concludes her witty and poignant True series with this spirited romance.
What do you do when the one boy you were never quite able to forget lands on your doorstep?
Lacey Mosely feels stuck: in her rural town of Crowell, Montana, at her job as manager of The Beauty Barn, and in her lackluster love life. Enter Jake Holt, one-time misfit and Lacey's secret high school love. Ten years later, Jake is a private pilot whose travels take him all over the world, and once he shows up in Lacey's life again—at the most unexpected time—he can't seem to stay away. Now it's up to Lacey to decide if she's ready to let go of the past…and take a leap of faith for love.
From the Author:
Pucked Up by Helena Hunting
Release Date: October 25th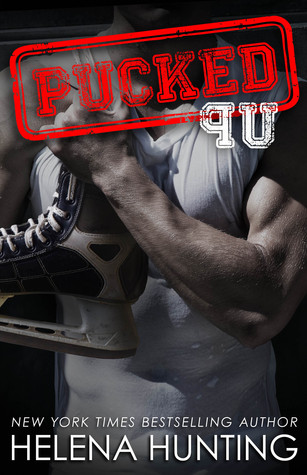 Miller "Buck" Butterson has been banging his way through life ever since a puck to the face fixed his messed up front teeth, and he was drafted into the NHL during his first year of college. After five years of deflecting goals on the ice and scoring them with puck bunnies across the Continental US and parts of Canada, Miller is ready for a girlfriend. A real girlfriend of the non-bunny variety. One he takes on dates and doesn't jump into bed with after five seconds of conversation.
Miller thinks he's found that woman in his teammate's sister. Except, unlike Alex Waters, center, team captain and all round nice guy—who happens to be dating his step-sister—Miller's manwhore reputation is well earned, and not blown out of proportion by the media. Beyond that minor detail, Miller doesn't know the first thing about having a girlfriend. But he's determined to make it happen.
What he doesn't take into account is the amount of time and effort relationships require, or that constantly letting bunnies take selfies with him to post all over social media isn't going to win him any points in the boyfriend department. Miller learns—not so quickly—that if he wants to make Sunshine "Sunny" Waters fall for him, he going to have to do a whole lot more than show her his stick skills in the bedroom.
What did you get to stack your shelves with?
Tamie Xo