Just in time for Halloween we have a short excerpt from The Shadow (book 2 in the Florentine series) and a fantastic SIGNED giveaway for you to enter from one of our favorite authors…Sylvain Reynard!
It's all treat and no tricks! 🙂
You could win one of TWO signed copies of The Raven by Sylvain Reynard.
Just go HERE to our rafflecopter drawing where you'll have several ways to enter. Easy right?
Contest will run through 11/4 and is open to US, Canada and UK.
No purchase necessary.
From the New York Times bestselling author of the Gabriel Series comes a dark, sensual tale of romance in a city shrouded in mystery…
Raven Wood spends her days at Florence's Uffizi Gallery restoring fine works of Renaissance art. But an innocent walk home after an evening with friends changes her life forever. When she intervenes in the senseless beating of a homeless man, his attackers turn on her, dragging her into an alley. Raven is only semi-conscious when their assault is interrupted by a cacophony of growls followed by her attacker's screams. Mercifully, she blacks out, but not before catching a glimpse of a shadowy figure who whispers to her…
Cassita vulneratus.
When Raven awakes, she is inexplicably changed. She returns to the Uffizi, but no one recognizes her and more disturbingly, she discovers that she's been absent an entire week. With no recollection of the events leading up to her disappearance, Raven also learns that her absence coincides with one of the largest robberies in Uffizi history – the theft of a set of priceless Botticelli illustrations. When the baffled police force identifies her as its prime suspect, Raven is desperate to clear her name. She seeks out one of Florence's wealthiest and elusive men in an attempt to uncover the truth about her disappearance. Their encounter leads Raven to a dark underworld whose inhabitants kill to keep their secrets…
"I think all this deep conversation is because of the view," she blurted out. "The beauty of the city makes people reflect on life and time and secret desires."
William chuckled and pressed a kiss to her temple. "What do you desire, little bird?"
"The steadfast love of a good man."
His arm about her tightened. "I am not a good man. I'm not a man at all. But I love you and my love is certainly steadfast."
She closed her eyes and leaned against him.
"I admire you." He spoke into her hair.
"Why?"
"Because you're principled and you hold fast to those principles even when it's difficult. You're noble."
"I feel awkward and overwhelmed more than anything."
"That is not how you appear to me." He lifted her chin. "Knowing what I know about your character and your heart, I've never seen anyone more beautiful."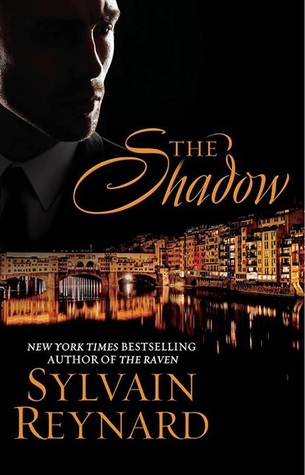 Raven Wood's vampyre prince has returned, pledging his love and promising justice for every wrong done to her. In the wake of their reunion, Raven is faced with a terrible decision—allow the Prince to wreak vengeance against the demons of her past, or persuade him to stay his hand. But there is far more at stake than Raven's heart…
A shadow has fallen over the city of Florence. Ispettor Batelli will not rest until he uncovers Raven's connection to the theft of the priceless art from the Uffizi Gallery. And while the Prince hunts a traitor who sabotages him at every turn, he finds himself the target of the vampyres' mortal enemy.
As he wages a war on two fronts, he will need to keep his love for Raven secret, or risk exposing his greatest weakness…
The Shadow is available for pre-order, and will be releasing on February 2nd, 2016.
AMAZON ~ Barnes and Noble ~ KOBO 
Follow SR on twitter ~ facebook ~ website
Also, you can get personalized, autographed copies of all his books for a limited time. Go here for all the details!
Thank you SR for the giveaway and the excerpt 🙂
Tamie Xo