Hey peeps!
I'm super excited to be able to offer you a chance at a giveaway for 2 fabulous print books by Brighton Walsh!
I loved both Caged in Winter and Tessa Ever After which are the two books being offered for you to win. The third book in the Reluctant Hearts series is called Paige in Progress, and is set to be released in January.
To enter the giveaway you just need to leave a comment. Giveaway will run from today Friday, November 13th through Sunday, November 15th.
One winner will be chosen by Random.org
Giveaway is US/Canada
No purchase is necessary.
In this emotional and sexy New Adult debut from Brighton Walsh, the only thing more frightening than commitment is hope……
Aspiring chef Cade Maxwell is immediately, viscerally attracted to Winter Jacobson. But it's not her mouthwatering curves he's drawn to—it's the strange emptiness in her eyes. When Cade saves her from a drunken customer with grabby hands, he's shocked at her response……
Winter doesn't need Cade's help. After a lifetime of getting by on her own, she's happy to rely on herself. She's exactly seventy-six days away from graduating college, and if she can hold it together that long, she'll finally be able to rise above the crappy hand she was dealt.
But now, every time she turns around, Cade is there, ready to push her, smile at her, distract her from her plans. Winter knows she can't afford to open up—especially to a man she's terrified to actually want….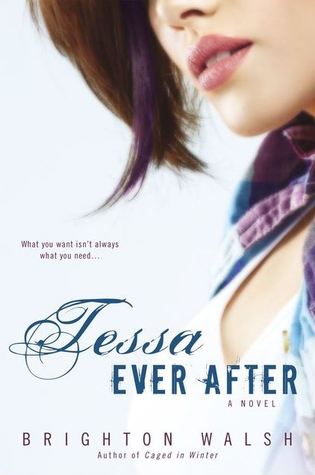 In this grippingly emotional New Adult novel from the author of Caged in Winter, what you want isn't always what you need…
Jason's been living (and loving) the rich playboy lifestyle for five years, but now his parents are pressuring him to get involved in the family business. The last thing he wants is another obligation, but when his best friend moves out of state and asks Jason to look after his sister, he can't just say no.
Tessa had to grow up way too soon. After dealing with the aftermath of her parents' deaths, then becoming a teenage mom, she knows the meaning of responsibility. Which is why, at twenty-two, she's looking for so much more than a party boy. She's looking for someone who can stand by her and her daughter…forever.
A relationship between them is doomed from the start, but who says they can't have a little fun? But as Jason gets closer to Tessa—and her daughter—fun starts to turn into something else… Something Jason's not sure he's ready for.
I also want to share the synopsis of Paige in Progress with you, and recommend that you add it to your list of must reads.
She wanted a one-night stand…and then he moved in next door.
Paige Bennett is more than content with her life and what she does—and does not—have in it. She's got a supportive family, a great apartment, and the best friend a girl could ask for; so what if her relationships expire faster than a carton of milk? After a disastrous detour courtesy of poor judgment in the boyfriend department, her plan is back on track and her dream job is finally within her grasp. Nothing can make her lose focus now. Well, nothing except the one-night stand she had with her best friend's surrogate brother. The one-night stand she can't stop thinking about.
Adam Reid has always been reliable…the responsible son, the loyal friend, the steady boyfriend. Two years ago, he graduated Magna Cum Laude and is well on his way to making a name for himself at an accounting firm in Denver—a far cry from working as a helper in the Mom and Pop store his parents own in Michigan. But when said store starts failing, he's the only one who can step in and help. So reliable Adam does what he always does, and he comes to the rescue.
Paige thought Adam was a safe bet because he lives halfway across the country. But then suddenly he's moving back to their town, and then into her apartment building, and soon he's worming his way right into her life. If she's not careful, he might sneak his way into her heart, too…
You can find Brighton on Twitter ~ Facebook ~ Website ~
Amazon ~ Pinterest ~ Goodreads
Don't forget…just leave a comment to be entered to win Caged in Winter and Tessa Ever After!
Tamie Xo