Stacking The Shelves is all about sharing the books you are adding to your shelves, may it be physical or virtual. This means you can include books you buy in physical store or online, books you borrow from friends or the library, review books, gifts and of course ebooks!
From Penguin:
What You Need by Lorelei James
Release Date: January 5th 2016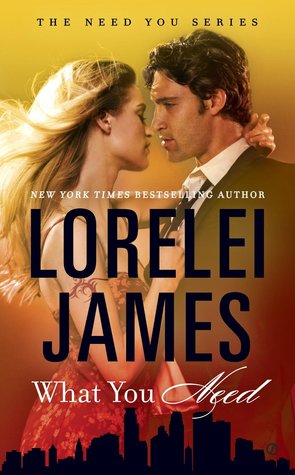 New York Times bestseller Lorelei James introduces a new family for readers to fall in love with in the Need You series. The Lund name is synonymous with wealth and power in Minneapolis-St. Paul. But the four Lund siblings will each discover true love takes a course of its own…
As the CFO of Lund Industries, Brady Lund is the poster child for responsibility. But eighty hour work weeks leave him little time for a life outside his corner office. His brothers stage an intervention and drag him to a seedy night club…where he sees her, the buttoned up blonde from the secretarial pool who's starred in his fantasies for months.
Lennox Greene is a woman with a rebellious past—which she carefully conceals beneath her conservative clothes. She knows flirting with her sexy, but aloof boss during working hours is a bad idea. So when Brady shows up at her favorite dive bar, sans his usual snappy suit, and catches her cutting loose, she throws caution aside and dares him to do the same.
After sparks fly, Brady finds keeping his hands off Lennox during office hours is harder than expected. While she makes him feel alive for the first time in years, a part of him wonders if she's just using him to get ahead. And Lennox must figure out if Brady wants her for the accomplished woman she is—or the bad girl she was.
Fight to the Finish by Jeanette Murray
Release Date: March 1st 2016
The author of Against the Ropes takes her First to Fight series another round with a novel of a JAG officer who loses his cool, when love delivers a knockout punch…
Kara is a single mom working hard to keep life running smoothly for herself and her son, but a custody battle is wearing her down. When her friend suggests asking a JAG officer for some unofficial advice, Kara agrees—and soon finds herself officially head over heels…
As a Judge Advocate, Graham has seen his share of nasty custody disputes—and he plans on keeping his distance from this one. But this purposeful, passionate woman has a way of drawing him ever closer to the edge. And when Kara's ex starts to throw his weight around, Graham will have to choose between toeing the line or stepping into the ring…
From Bantam:
Never Tear Us Apart by Monica Murphy
Release Date: January 5th 2016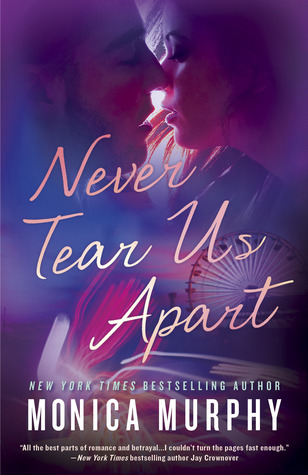 Perfect for readers of Colleen Hoover, Jay Crownover, and K. A. Tucker, the first novel in this darkly sexy contemporary series from bestselling author Monica Murphy kicks off an emotionally powerful two-part tale of forbidden love.
 
Crazy how eight years can disappear in an instant. One look at Katie Watts, and I'm a fifteen-year-old again—the one who risked everything to save a terrified girl from her twisted kidnapper. She's grown-up now—beautiful, quiet, composed—and telling her story to the world. A story that involves me in more ways than you can imagine. She used to call me her guardian angel. Sure, I risked my life, but she was worth dying for.
I need to make contact with her. Just to ensure that she's safe.
Somehow we reconnect. We become friends . . . but I want more. I want to make her mine. And she wants me too. Does she know who I am? Has she figured me out? Not yet. But she will. In the meantime, I need to make sure that whatever hold that animal had on her is gone.
So, yeah, I'm stealing these moments with her. Savoring them. Knowing, dreading, that she'll soon find out who I really am. And everything will fall apart. All because of that twisted, perverted monster sitting on death row. Her kidnapper. A convicted serial killer.
My father.
From Dell:
Shameless by Joan Johnston
Release Date: December 29th
HER SHAMEFUL PAST MAKES HER AN OUTCAST—
UNTIL A LONE WOLF TAKES HER INTO HIS HOME.
Scorned, pregnant, and facing a life without promise, Pippa Grayhawk is stunned when her father announces that they're leaving their home in Australia to take over his estranged father's sprawling Wyoming ranch. Drawn into bitter family rivalries and feeling like an interloper in her new home, Pippa rides out into the wilderness and meets an intriguing stranger and his pet wolf. The wolf doesn't scare her, but she's very much afraid to trust another man with her heart.
Devon Flynn knows all about going it alone. He lives in an isolated cabin, away from his domineering father and the scandal surrounding his family. Devon's attraction to Pippa is intoxicating and undeniable, but when he tries to get close, she's as wary as his once-wild wolf. Devon is willing to defy his father, and hers, to claim Pippa as his own, but winning this wounded, wonderful woman's love might be the greatest battle of all.
I also received two print books from NAL that had previously been published as ebooks only, and I'm so excited to add them to my collection!
Bully by Penelope Douglas
My name is Tate. He doesn't call me that, though. He would never refer to me so informally, if he referred to me at all. No, he'll barely even speak to me.
But he still won't leave me alone.
We were best friends once. Then he turned on me and made it his mission to ruin my life. I've been humiliated, shut out, and gossiped about all through high school. His pranks and rumors got more sadistic as time wore on, and I made myself sick trying to stay out of his way. I even went to France for a year, just to avoid him.
But I'm done hiding from him now, and there's no way in hell I'll allow him to ruin my senior year. He might not have changed, but I have. It's time to fight back.
I'm not going to let him bully me anymore.
Until You by Penelope Douglas
Have you ever been so angry that hitting things felt good? Or so numb that you actually felt high? The past few years have been like that for me. Traveling between fury and indifference with no stops in between.
Some people hate me for it, while others are scared of me. But none of them can hurt me, because I don't care about anything or anyone.
Except Tatum.
I love her so much that I hate her. We used to be friends, but I found out that I couldn't trust her or anyone else.
So I hurt her. I pushed her away.
But I still need her. The sight of her centers me, and I can pool all of my anger into her. Engaging her, challenging her, bullying her…they are my food, my air, and the last part of me that feels anything human.
But she left. She went to France for a year, and came back a different girl.
Now, when I push, she pushes back.
What books did you get this week?
Tamie Xo