Stacking The Shelves is all about sharing the books you are adding to your shelves, may it be physical or virtual. This means you can include books you buy in physical store or online, books you borrow from friends or the library, review books, gifts and of course ebooks!
From Penguin:
Unhinge by Calia Read
Release Date: January 12th
In Calia Read's electrifying sequel to her steamy, psychological suspense novel Unravel, a visit from a handsome stranger shatters a beautiful young woman's vision of her picture-perfect past.
Victoria can't recall much of her life before she came to Fairfax Hospital, but she prefers it that way. She holds her beautiful baby daughter, Evelyn, every day and that's enough…isn't it? But when Evelyn is taken from her, Victoria's world begins to fray at the seams. It becomes apparent to her that the hospital walls aren't the only obstacles standing between her and the outside world—Victoria has constructed a hall of mirrors deep inside, every false image a distraction from the trauma of her past life. A white picket fence, a family on the way…yet something feels amiss in her memories of a happy marriage. When a handsome stranger begins visiting Victoria, pressing her to remember her past, she struggles to separate real memories from refracted images she has created, knowing at last that only the truth can set her free.
Love in Lowercase by Francesc Miralles
Release date: January 26th
When Samuel, a lonely linguistics lecturer, wakes up on New Year's Day, he is convinced that the year ahead will bring nothing more than passive verbs and un-italicized moments—until an unexpected visitor slips into his Barcelona apartment and refuses to leave. The appearance of Mishima, a stray, brindle-furred cat, leads Samuel from the comforts of his favorite books, foreign films, and classical music to places he's never been (next door) and to people he might never have met (his neighbor Titus, with whom he's never exchanged a word). Even better, Mishima leads him back to the mysterious Gabriela, whom he thought he'd lost long before.
In the spirit of The Solitude of Prime Numbers and The Guest Cat, Love in Lowercase is a charming and uplifting novel about how one man, thanks to a persistent cat-turned-catalyst, awakens to the importance of the little things in life—and discovers that sometimes love is hiding in the smallest characters.
From the Author:
The Score by Elle Kennedy
Release Date: January 11th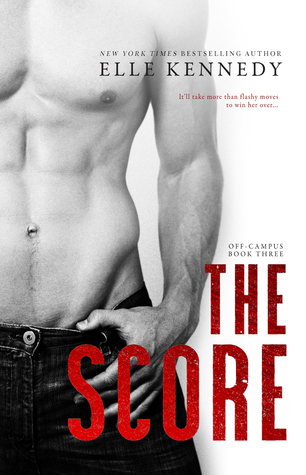 He knows how to score, on and off the ice
Allie Hayes is in crisis mode. With graduation looming, she still doesn't have the first clue about what she's going to do after college. To make matters worse, she's nursing a broken heart thanks to the end of her longtime relationship. Wild rebound sex is definitely not the solution to her problems, but gorgeous hockey star Dean Di-Laurentis is impossible to resist. Just once, though, because even if her future is uncertain, it sure as heck won't include the king of one-night stands.
It'll take more than flashy moves to win her over
Dean always gets what he wants. Girls, grades, girls, recognition,girls…he's a ladies man, all right, and he's yet to meet a woman who's immune to his charms. Until Allie. For one night, the feisty blonde rocked his entire world—and now she wants to befriends? Nope. It's not over until he says it's over. Dean is in full-on pursuit, but when life-rocking changes strike, he starts to wonder if maybe it's time to stop focusing on scoring…and shoot for love.
I purchased:
Outtakes from the Grave by Jeaniene Frost
Released: December 22nd
Cat and Bones fans, sink your teeth into this new outtakes compilation from New York Times bestselling author Jeaniene Frost!
Indulge your love of paranormal super couple Cat and Bones with this ultimate "director's cut" collection of deleted scenes and alternate versions from the first four novels in the Night Huntress series, complete with author commentary on each selection. Includes: the original beginnings of Halfway to the Grave, One Foot in the Grave, At Grave's End, and Destined for an Early Grave: a chapter written in Bones's point of view; alternate versions of sections of Halfway to the Grave, One Foot in the Grave, and Destined for an Early Grave; the "white wedding" scene between Cat and Bones that never made it into the final books…and much more!
What books did you get lately to stack your shelves with?
Tamie Xo