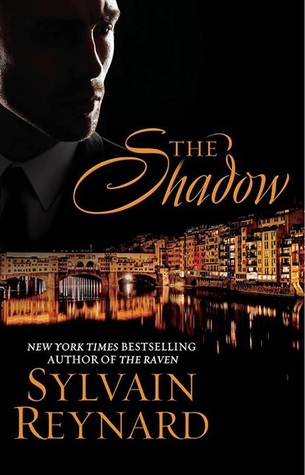 Raven Wood's vampyre prince has returned, pledging his love and promising justice for every wrong done to her. In the wake of their reunion, Raven is faced with a terrible decision—allow the Prince to wreak vengeance against the demons of her past, or persuade him to stay his hand. But there is far more at stake than Raven's heart…
A shadow has fallen over the city of Florence. Inspettor Batelli will not rest until he uncovers Raven's connection to the theft of the priceless art from the Uffizi Gallery. And while the Prince hunts a traitor who sabotages him at every turn, he finds himself the target of the vampyres' mortal enemy.
As he wages a war on two fronts, he will need to keep his love for Raven secret, or risk exposing his greatest weakness…
What an absolute pleasure it was for me to read The Shadow by Sylvain Reynard. As much as I enjoyed the first book, The Raven, this second instalment was just that much richer and bolder. I think it was also better because I felt a stronger bond and affinity with the characters.
SR is a master storyteller. One of the very best in my personal opinion. He weaves words into sentences and paragraphs and chapters that entice, delight, and entertain.
One of the many things I loved about The Shadow was the near perfect balance that was achieved between all the different parts that make up the whole of the book. What I mean by that is the seamless transitions between romance and adventure, history and intrigue, passion and excitement. I never felt there was too much of one thing and not enough of something else.
I also loved getting to know William York better. Yes, he's definitely compelling and hot and uber alpha as a book boyfriend, but what I enjoyed most in this story was the attention he paid to Raven's thoughts and feelings. When she didn't react as he thought she would in a given situation he pondered the why of it, and tried to understand her. I think that's something we'd all like from those we love and give our heart to.
I always enjoy the inclusion of art, music, and life lessons that SR is so good at teaching in subtle ways. Many times I've marked a passage and then later done more research on a particular painting, piece of music, or location.  Inevitability, I feel enlightened and enriched, or that I've gained some sort of insight every single time I read one of his novels.
In case you were wondering…there is a very intense and quite extraordinary scene that involves William and my much beloved Professor Gabriel Emerson. I enjoyed it immensely! There are also a couple of bonus scenes at the end of the book that are both surprising and fantastic! I won't say more, you'll have to read them yourselves.
I highly recommend that you read The Shadow. I think you'll find it captivating, evocative, arousing, swoony, and very difficult to put down once you begin reading. It gets book crush status from me for sure.
WHERE TO PURCHASE:
Stay tuned later today for a giveaway in a separate post!
**I received a copy of this book in exchange for an honest review.**
Tamie Xo