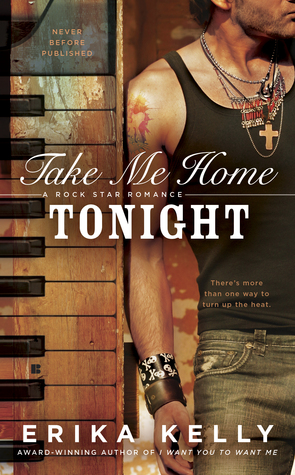 Erika Kelly's TAKE ME HOME TONIGHT is rocking readers' worlds everywhere! We can't wait for you to get your hands on it. Known for passionate heroes and strong women, book 3 in Erika's Rock Star Romance Series, TAKE ME HOME TONIGHT, is no different! Check out everything we have for you on this amazing title and then go grab your copy today. Calix and Mimi's story is sure to please and keep you turning pages long into the night!
 
A rocker gets a taste of unexpected passion in the latest red-hot Rock Star Romance from the award-winning author of I Want You to Want Me.
Calix Bourbon might seem like a free spirit, but that's all a front. In reality he's just trying to keep his fractured family together while working as a session musician. When Blue Fire hires him to replace their keyboardist, Calix is determined to make the most of the opportunity—but he can't help being distracted by the band's sexy personal chef.
Mimi's temporary gig is great, but she has her heart set on auditioning for a televised cooking show. There's just one problem: she only has a week to acquire the skills necessary to survive the competition. Luckily, the band's new keyboard player can teach her exactly what she needs, in the kitchen and in the bedroom…
Just as her finger hovered over the cab company's number, a motorcycle roared down the street. With his long, dark hair fluttering out the half-shell helmet, the unmistakable figure of Calix Bourbon came cruising down the asphalt in a black and chrome Harley.
She stepped into the intersection, forcing the bike to stop.
"Amelia." The concern in her dad's tone almost made her turn back to him.
Calix's big boot hit the ground. He watched her with those intense, dark eyes.
"Can you give me a ride?"
His heated gaze took a slow predatory slide from her eyes to her mouth to her breasts, all the way down to her hips.
"Melie." The two syllables fired like pellets out of her dad's mouth. "What the hell are you doing?"
But she ignored him and approached the bike. She'd never ridden on a motorcycle. How could she straddle it in her tight skirt?
Without a word, Calix pulled a combat foldout knife from the pocket of his jeans and flipped it open. The loud flick excited the hell out of her. Leaning in, he looked up, a question in his eyes. Heart pounding, she nodded.
With the tip of the blade he pulled the skirt away from her legs.
"Hey." Her dad charged into the street. "Do not touch her."
But Calix didn't even look at him. He kept his inquiring gaze on Mimi.
She gave him a nod. In one swift flick of his wrist, Calix slit her skirt nearly up to her lace boy shorts.
"Are you out of your mind?" her dad shouted.
Instead of answering—and, really, maybe she was a little out of her mind—she hitched up the material and threw a leg over the seat. With her hot pink panties exposed for all the world to see, she hitched forward, closing the distance between her and Calix's big body.
"Amelia, I don't know what the hell you're doing, but acting like a rebellious teenager is not going to encourage me to hire you."
"So far nothing I've done has encouraged you."
Calix pulled off his helmet and handed it to her. Once she had it on, she wrapped her arms around his incredibly hard, warm waist.
"I told you I'll come up with an idea for you, but if you get on that bike, I won't help you with anything."
"Then I guess it's up to me to take it from here."
Calix's big hand settled on her thigh, giving it a squeeze.
She understood the question. "Go."
With a roar, the engine blasted between her thighs.
She never looked back.
Order TAKE ME HOME TONIGHT Today!
iBooks ~ Amazon ~ Barnes & Noble ~ Kobo ~ GooglePlay

"Great story line, full of emotion, and passion with wonderful characters. I adore this series!"-  Gretchen, Goodreads Reviewer
"Erika Kelly has now won a place as one of my top authors." Deanne, Books and Boys Book Blog
And don't miss the first two titles in The Rock Star Romance Series!


 About Erika Kelly:
Award-winning author Erika Kelly has been spinning romantic tales all her life–she just didn't know it. Raised on the classics, she didn't discover romantic fiction until later in life. From that moment on, she's been devouring the genre and has found her true voice as an author. Over three decades she's written poems, screenplays, plays, short stories, and all kinds of women's fiction novels. Married to the love of her life and raising four children, she's lived in two countries and seven states, but give her pen and paper, a stack of good books, and a steaming mug of vanilla chai latte and she can make her home anywhere.
Connect with Erika:
Website ~ Facebook ~ Twitter ~ Newsletter Signup ~ Erika Kelly Goodreads
Enter the Rafflecopter giveaway here!
You have the chance to win a signed copy of You Really Got Me, and I Want You to Want Me.